Glenn Brunk Stationers became a fixture on the Lincoln square in 2002, first locating at 511 and then 600 Broadway. Now they have relocated in the Arcade, across from the heavily trafficked Brandt's Cafe.

Originally Ed had checked out the Lincoln market and found that both Lincoln Office Supplies and Staples had recently left town. "It looked like Lincoln was a perfect location to open a satellite of the Springfield store's main headquarters, and I was certain Lincoln could support a local office supply business," he explained.

The new location, in the building formerly housing the Mustard Moon, offers the office supply store much more window exposure than their previous two locations. The sectioned store also gives a myriad of possibilities for expansion of products.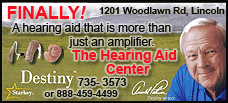 Ed wanted it known that although the storefronts on the square have been relatively small, Glenn Brunk Stationers is anything but that. "People might think we are a small office supply company, but we are not," he said. "We not only can compete with the big dogs, we are one of the big dogs."
To prove the point, Ed used the Internet during a sale to show the prices of a block of printer paper at various competitors. The customer was impressed when he saw that the price he was paying was cheaper than Quills and Office Depot.
With the Glenn Brunk branch in Lincoln, there's now a local office supply store with big-chain prices.
"We have been in business for 49 years and offer over 40,000 items in our catalog," he said. "We might not have it all here in this location, but almost always we can have it here for you tomorrow. Plus, we offer free delivery to commercial accounts."
Ed felt like bragging a bit: "We offer the largest inventory of computer printer cartridges in Logan County, perhaps in all of central Illinois. And we offer them at competitive prices."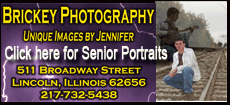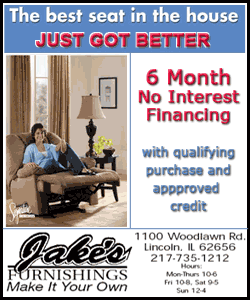 The new location has extra space. To help showcase that businesses and individuals can use Glenn Brunk for all of their home or office needs, an office furniture showroom is in the planning stages. "From time to time we will have office furniture here at 'blowout' prices," Ed relayed.
Without question, the new location brings a more visible display to downtown visitors. "The busy Brandt's Cafe will draw traffic by our windows. Plus, at night, customers walking to eat at Guzzardo's will also be able to window-shop and see that we are a serious retailer of office products," Ed mentioned.
Although unpacking and still working on a hectic schedule to get the store stocked and ready for serious business, Ed wanted to remember his manners. "I really want to thank all our customers, personal and business, for understanding what we are temporarily going through," he said. "I also want to thank John Guzzardo, Computer Consulting Associates and Simonson Floor Center for being so quick to help get us ready for business with a minimal of delay."
Hours at the new location are Monday through Friday from 9 a.m. to 4:30 p.m., but customers can browse and order office supplies online any time of the day or night at www.glennbrunk.com. Customers can also compare competitor prices on almost 10,000 items to prove they are getting a competitive price right in their hometown.
[By Mike Fak]
Readers can find more of Mike Fak's writing at www.searchwarp.com and www.problogs.com.