Main Street Lincoln has been awarded $56,000 for a project titled, "Interpretation of Lincoln-related sites in Logan County." This project will include the development of an information kiosk, brochures with GPS coordinates, a cell phone-based interpretive journey, informational signs and a painting of Lincoln giving an 1858 speech at the Logan County Courthouse.

In cooperation with the Illinois Broadcasters Association, the commission also unveiled a "Voice of Lincoln" contest that will help promote the bicentennial on Illinois radio stations.

"The commission's top priority is to support programs developed by or for Lincoln-related communities and historic sites in Illinois," said Marilyn Kushak, chairwoman of the Illinois Abraham Lincoln Bicentennial Commission. "These grant funds will help create a positive economic impact on these communities and the state of Illinois and help us plan a 200th birthday celebration worthy of the 'Land of Lincoln.'"

The grants will fund 25 projects throughout the state. A total of 78 applications were received following the announcement of available grant funds made in September 2007.

The funds were awarded based on the bicentennial commission's five major initiatives: Rural Program, targeting communities of 2,500 or less; School Program, to bring the bicentennial to Illinois schools; Public Program, to support programs presented by community organizations, universities and cultural organizations; Legacy Projects, to create visible public legacies of the bicentennial; and Historic Sites Interpretation, to create and preserve live interpretative programs at Lincoln-related sites.

The unprecedented statewide search for the "Voice of Lincoln" seeks to identify an individual who will record a series of radio public service announcements to promote Illinois' observance of the Lincoln Bicentennial. Contest rules are available at www.lincoln200.net. Tape recordings made by the contestants, who will receive no compensation, will be reviewed by the commission and a winner selected. Then, in cooperation with the Illinois Broadcasters Association, the winner will record a series of vignettes about Abraham Lincoln's life. The series will be distributed to all Illinois radio stations for volunteer airing during 2008 and 2009.

"We're honored to have been asked to play a role in providing a forum for the 'voice' of Lincoln," said Dennis Lyle, president and CEO of the Illinois Broadcasters Association. "What better way to do so than via the theater-of-the-mind medium of radio?"

The Voice of Lincoln is the latest initiative to promote the Lincoln Bicentennial in Illinois. The Lincoln Log, a day-by-day feature that explains what Abraham Lincoln wrote, said or did on that date in history, is a joint venture between the Illinois Abraham Lincoln Bicentennial Commission and the Illinois Press Association and is being featured in more than 60 newspapers.

The Illinois Abraham Lincoln Bicentennial Commission, formed by Gov. Rod R. Blagojevich in February 2006, is working closely with the Illinois Historic Preservation Agency, the Abraham Lincoln Presidential Library and Museum, tourism agencies and many other institutions and organizations to organize events and programming beginning in 2008. The commission is also partnering with local communities on their bicentennial plans.

Other 2008 Illinois Abraham Lincoln Bicentennial Commission grants:

Traveling exhibits on Lincoln-Douglas debates
Alton, Galesburg, Freeport, Quincy, Charleston, Jonesboro, Ottawa and Springfield

Eight traveling exhibits will be developed and made available to public institutions throughout 2008, the 150th anniversary of the debates. Each community will then keep one of the exhibits as part of their debate site interpretation. Bicentennial grant: $25,311.

Abraham Lincoln, David Davis and Jesse Fell statues
McLean County Museum of History, Bloomington

The grant will help fund the creation of three statues to be placed in Bloomington's Lincoln Park. Bicentennial grant: $22,750.

8th Judicial Circuit exhibit
David Davis Mansion State Historic Site, Bloomington

Three sets of this panel exhibit will be produced that will travel to the 16 counties that at one time comprised the 8th Judicial Circuit, where Lincoln practiced law. Bicentennial grant: $10,000.

Interactive mini-museum and reading room
Cairo Junior-Senior High School

Cairo students will assist with the development of this room, which will feature dramatic presentations scheduled throughout the bicentennial, with special emphasis on the African-American viewpoint. Bicentennial grant: $13,846.

Renovation of "Little Brick Schoolhouse"
Warsaw Historical Society, Carthage

Portions of the schoolhouse where Lincoln's secretary, John Hay, attended through age 11 will be renovated. Bicentennial grant: $6,925.

"Lincoln in Illinois" programs
WTTW-TV, Chicago

Ten short segments celebrating Lincoln's life will be produced and offered to all PBS stations for use during programming breaks in 2009. Bicentennial grant: $50,000.

Lincoln-related humanities programs
Illinois Humanities Council, Chicago

The grant will partially fund the second year of a nine-person roster of programs targeting nonprofit organizations and small Illinois communities. Bicentennial grant: $40,000.

"Portraying Lincoln: Man of Many Faces" exhibit
Decatur Arts Council

The exhibit will showcase more than 50 artists who have given expression to Lincoln's continuing influence. Bicentennial grant: $50,000.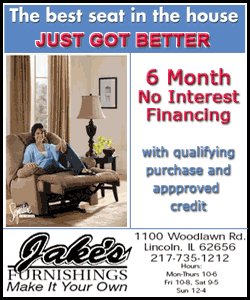 Lincoln-Douglas debate site improvements
Lincoln-Douglas Society, Freeport
Improvements will include wayside exhibits, lighting, landscaping and the relocation of the debate boulder. Bicentennial grant: $20,000.
"Through Lincoln's Eyes: Galena and Grant"
Jo Daviess County Historical Society and Museum, Galena
This permanent exhibit will tell of Lincoln's Civil War interactions with Gen. Grant, his service in the Black Hawk War and his early political life. Bicentennial grant: $5,750.
"A Good Man" dance and theater production
Ravinia Music Festival, Highland Park
The grant will continue partial funding to commission a new work, and associated workshops, with famed choreographer Bill T. Jones. Bicentennial grant: $50,000.
"Lincoln Book for Every Student" program
Jacksonville Area Lincoln Bicentennial Commission
The grant will help provide a Lincoln-related book to 4,450 students and serve as the basis for citywide reading, writing, visual arts and quiz bowl competitions. Bicentennial grant: $49,517.
Lincoln monument
Friends of Community Public Art, Joliet
A monument highlighting Lincoln's pre-presidential public life and an associated teaching guide will be developed. Bicentennial grant: $40,000.
I & M Canal exhibit and programming
Canal Corridor Association, Lockport
This traveling exhibit, interpretive reader trail, brochures, student activity book and lesson plans will celebrate Lincoln's contribution to the I & M Canal and its subsequent impact on the state and nation. Bicentennial grant: $53,698.
"Champaign County's Lincoln" exhibit
Early American Museum, Mahomet
The grant will fund the opening, interactive scene of this exhibit. Bicentennial grant: $17,680.
2008 Lincoln Bicentennial Bike Tour
Marshall, Decatur and Springfield
The tour begins at Lincoln's Kentucky birthplace and travels a route close to that followed by the Lincoln family as they moved through Kentucky, Indiana and Illinois. As the tour stops overnight in communities, Lincoln programs will be offered to the public. The funding will assist with program costs. Bicentennial grant: $2,000.
Lincoln speech historical site marker
Oquawka
This marker will denote an Oct. 9, 1858, speech near the Mississippi River waterfront, where Lincoln stopped after his Galesburg debate with Stephen A. Douglas. Bicentennial grant: $4,650.
"Lincoln Gallery" exhibit
Historical Society of Quincy and Adams County
An exhibit will be created featuring Lincoln-related artifacts and Lincoln's connections to Quincy. Bicentennial grant: $12,482.
"Let's Debate" statuary project
Shelby County Lincoln Heritage Inc., Shelbyville
The grant will partially fund the Looking for Lincoln Coalition series of nine wayside exhibits to detail the Lincoln story in Shelby County. Bicentennial grant: $26,000.
Tinsley Project
Lincoln-Herndon Law Offices State Historic Site, Springfield
The grant will help develop an interpretive plan for the Tinsley Project, which aims to accurately restore Lincoln's office space, a federal courtroom and a period dry goods store in the building. The Tinsley Project will recreate the story line of an 1840s commercial and social gathering place for the Lincolns and their neighbors as an ongoing Bicentennial Legacy project. Bicentennial grant: $60,000.
"Lincoln Stories"
Network Knowledge, Springfield
Thirty-minute video segments, patterned on the TV series "Illinois Stories," will be developed and distributed to Illinois schools and libraries. Bicentennial grant: $42,593.
Quiddity literary journal
Springfield College in Illinois/Benedictine University
This literary journal, being published in partnership with NPR affiliates WUIS in Springfield and WIPA in Pittsfield, will invite submissions of poetry and prose focusing on the work of Abraham Lincoln as a poet and inspirer of verse. Bicentennial grant: $7,645.
"Lincoln for the Next Generation" essay contest
Illinois State Library, Springfield
This essay contest challenges students to compose their own Gettysburg Address, with winning essays to be published in the 2009 Handbook of Illinois Government. The grant will help promote the contest by funding banners to be placed around the Capitol Complex in Springfield. Bicentennial grant: $3,153.
8th Judicial Circuit documentary
WILL-TV, Urbana
The grant will help continue the production of a program on Lincoln's legal career on the 8th Judicial Circuit. Bicentennial grant: $30,000.
[Text from Illinois Historic Preservation Agency news release received from the Illinois Office of Communication and Information]