Last week, historians at the Abraham Lincoln Presidential Library in Springfield made an exciting discovery -- an artifact that's been part of their collection since 1955 is the original axe handled by Lincoln at the field hospital 143 years ago.

"We now have the two iconic pieces connected with Lincoln: his hat and an axe. The fact that this axe was used right before the end of his life is a perfect bookend to his frontier origins," said Illinois State Historian Thomas Schwartz. "Even as president, he never completely forgot his early roots. Military surgeons who performed the autopsy on Lincoln all remarked how his body looked like that of someone half his 56 years of age."

Abraham Lincoln was at City Point, Va., to witness the end of the Civil War from March 20 to April 9, 1865. On April 8 he spent the entire day shaking hands with more than 5,000 wounded soldiers at the Depot Field Hospital. Lincoln was reportedly exhausted and his arm throbbed with pain, but told Charles Sumner, who accompanied him, and a hospital doctor that he wasn't tired or sore. To prove his point, Lincoln picked up an axe, and at the suggestion of someone in the crowd, chopped a nearby pile of wood. When he was done, he took the axe by its handle and with his right hand lifted it slowly until it was at a right angle to his body, where he held it for several moments, a feat of strength he had performed before. The wounded soldiers were delighted by the way Lincoln "showed off" for them.

Later, however, after Lincoln returned to the ship on which he was staying, he reportedly confessed to his wife that his arms ached and he was anxious to get to bed.

Schwartz said the story of Lincoln's hospital visit and axe handling has long been known to historians. As with many other purported Lincoln artifacts, however, there have been numerous "Lincoln axes" that have turned up through the years that might have been old, but no proof existed that Lincoln actually held and used them.

Presidential library researchers thought this axe fell into that category until several documents that had been filed away at the library more than 50 years ago were re-examined. One is a copy of an original affidavit made by the field hospital director: "I hereby certify that with this axe Abraham Lincoln, late President of the United States, did, on the Saturday before his assassination, chop a twenty inch white oak log in rear of my quarters at the Depot Field Hospital, Army of the Potomac City Point VA." It was signed "G.B. Parker MD, Late Surgeon USV, Chief Medical Officer." In addition, there was a written statement made to verify that the copy of Dr. Parker's affidavit now in the library's possession was legitimate -- that statement was dated Jan. 21, 1914.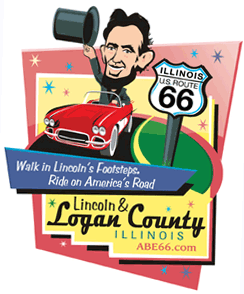 There was also a letter written by Richard Hagen of the state of Illinois' Parks and Memorials Division to Mrs. A. Clement Wild on March 5, 1955: "This letter bears the thanks and appreciation of this Division for your recent gift to the Abraham Lincoln Home of an axe with which Mr. Lincoln chopped down a tree on the Saturday before his assassination … Since the axe properly belongs in that period of Lincoln's life after he left Springfield, we would not feel that there would be a proper place for it within the house itself." The state of Illinois owned Lincoln's Home at the time, and since the axe was not deemed appropriate for display there, it was transferred to the Illinois State Historical Library, now known as the Abraham Lincoln Presidential Library.
Finally, the maker's mark on the axe confirms it was being manufactured before or during the Civil War. The marking "William Mann Lewistown Cast Steel Warrented" (sic) can be read on the axe head. William Mann and his sons began a company in Lewistown, Pa., and by 1855 were producing 500 axes a day. In 1866, the imprint on the axe head changed to "Axe Trust" since the company was purchased by the American Axe and Tool Company. Only axes produced before 1866 carried the "William Mann" imprint, which matches with the date Lincoln used the axe in April 1865.
"Moving into the new Abraham Lincoln Presidential Library and using a new inventory software program allowed us to re-examine the entire collection. Rather than simply assigning a new number to some of the older artifacts, extensive research is being undertaken to fully document every item to the extent it is possible," said Schwartz. "The library was established in 1889 even though most people think that we are entirely new. The museum component is new, but the collections are more than a century old. Unfortunately, not every donation came with complete provenance. And this is especially true of the materials acquired before the library hired a curator in 1958."
[Text from Abraham Lincoln Presidential Library and Museum news release received from the Illinois Office of Communication and Information]