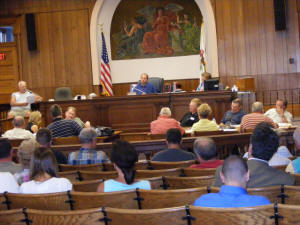 The Logan County Board opened its floor Thursday evening to provide one more opportunity for public comment before its discussion of the Rail Splitter Wind Farm. The board heard public comment on the matter last month. And since that time the Logan County Zoning Board of Appeals scheduled three hearings, which stretched into seven hearings in order to provide as much time as needed for the public to speak on the matter.
The appeals board reviewed all the public testimony and evidence, and on July 2 they voted unanimously to recommend approval of Horizon's request for conditional use of the land to put up wind turbines for the production of electricity by wind power.
Because of the quantity of time already provided for public comment, last night individuals were asked to keep their comments to 10 minutes, and lawyers were asked to keep comments to 15 minutes.
The county board is expected to vote on the request Tuesday.
Pictured to the upper left testifying is Eugene Aper of Emden, center is Logan County Board vice chairman John Stewart, and at right is board administrative secretary JoAnne Marlin. Aper is opposed to the wind farm, based on his concern that property values will go down.