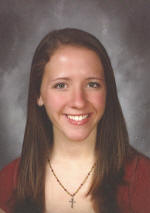 Jennifer Allspach and Paul Foley were named valedictorians.

Jennifer is the daughter of George and Karen Allspach of Mount Pulaski. She plans to attend the University of Illinois as a pre-nursing major.
Paul is the son of Robert and Sharon Foley of Mount Pulaski. He will attend Springfield College in Illinois to study business administration.
After the presentation of colors by Mount Pulaski American Legion Post 447, Dustin Aylesworth led the Pledge of Allegiance. Opening remarks were given by Christina Stoll. The high school band and chorus participated in the ceremony and the senior class presented a slide show. Mr. Scott Doerr, principal, presented the Class of 2008. Closing remarks were given by Emily Bobell.
(See list of graduates.)
[Text from file received from Nancy Baker, Mount Pulaski High School]