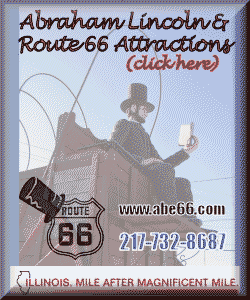 Community calendar compiled by the Abraham Lincoln Tourism Bureau of Logan County
(From file received Sept. 6)
Jun 13 & 14, 2008 Logan County Route 66 Garage Sale: 37 Miles of Smiles! Are you looking for a great time on Route 66, but love to go garage saleing? Well look no further, because we have the Garage Sale for you! The Route 66 Heritage Foundation of Logan County is pleased to present the Second Annual Logan County Route 66 Garage Sale. Thirty-Seven miles of Route 66 in Logan County, covered in sales and vendors, flea markets and food. It all happens on June 13 & 14 from 8 AM – 6 PM. For visitor and vendor information, check out www.route66garagesale.com or contact 217-732-8687.
July (TBA), 2008 Heritage Days. Once again, the city of Lincoln will be opening it's doors to celebrate our Independence! Shops downtown will be holding sidewalk sales, there will also be dancing and music. The annual fireworks show will begin at dusk on July 4.
Jul 29 – Aug 3, 2008 Logan County Fair. Come and relax and enjoy the Best of Logan County! Daily activities include 4-H shows, a queen pageant, live entertainment, and a carnival full of food, games, & displays. For more information, call 217-732-3311.
Aug 22 – 24, 2008 Lincoln Art & Balloon Festival. Come out to the Airport in Logan County to experience the beauty and wonder of Hot Air Balloons in flight. Downtown, see all of the art vendors and pick up some beautiful pieces. Activities include several balloon launches, evening balloon glows, musical entertainment, food, an art and craft show, the Art of Wine, and much more. For more information, please call 217-735-2385.
Aug 24, 2008 1800's Craft Fair. Postville Courthouse will once again be hosting their 1800's Craft Fair on the final day of the Lincoln Art and Balloon Festival. The Public is invited to come and see 19th century crafters from surrounding areas demonstrating their skills. Local crafters are also included. Music and other entertainment will be provided. Call 217-732-8930 or 217-737-0979 for more information.
Sep 12 – 14, 2008 Abraham Lincoln National Railsplitting Contest and Crafts Festival. 38th Annual festival will be a fun and educational event for all ages – rail splitting, corn shucking, tomahawk throwing, pioneer village, antique car and tractors, historical displays, Lincoln presentations, quilt show, crafters, flea market, kids games, food vendors and much more. Check out www.railsplitting.com or call 217-732-8687 for more information.
Nov (TBA), 2008 Christmas Memories Quilt Show. The Christmas Memories Quilt Show at Postville Courthouse State Historic Site will be back again this year. Featuring lovely period quilts of all designs and holiday themes. Hours are 12 PM to 4 PM. This show is co-sponsored by Postville Courthouse and Sew Many Friends. Come and enjoy the beautiful quilts and vote for your favorite. Tour the historic site at 914 Fifth Street in Lincoln. Free and open to the public. For more information, please call 217-735-4977 or 217-732-4527.
[Text copied from file received from the Abraham Lincoln Tourism Bureau of Logan County]