Besides baked goods for sale, you can buy a tenderloin sandwich, chips and drink for only $3.00. For those so inclined, they will have hot dogs (no offense to cat lovers) chips and a drink for only $2.00. The profits from the sales will go to helping fulfill the goals of our local Humane Society. The Humane Society of Logan County was established as a not-for-profit organization on April 14, 2006 and has almost 200 members. Members are committed to the prevention of cruelty, abuse and neglect of animals through an adoption program, cruelty investigations, spay/neuter assistance program, and humane awareness and education. Their long-term goal is to establish an animal shelter in Lincoln to house homeless pets until they can be adopted into permanent homes. The society currently has 10 foster homes that are caring for homeless dogs and cats until they are adopted. They also have coordinated the spaying/neutering of over 125 dogs and cats this year.
---

Just in case you're not Tiger Woods
How is your golf game this summer? Do you need a tune up? If you do then the Lincoln Park District is offering their eighth annual Golf Camp. Join them Monday, June 23 for this awesome week-long experience. Instructor Jim Dunovsky returns to share his wealth of knowledge of this fun and sometimes frustrating sport. The primary focus of the camp will be on the fundamentals of the golf swing; grip, stance, posture, form and tempo. And finally, no lesson would be complete without some of the basics on rules, philosophy and etiquette (that leaves Mike Fak out of the picture). Save Friday morning when all golf campers go to Four Willows Golf Course in Mason City to play nine holes and enjoy a cookout at the course. The round of golf and lunch are included in the registration fee. You can contact the Park District at 217-732-8770 for further details.
---

Ever thought of drawing a cartoon?
Explore one of the most unusual occupations, Syndicated Cartooning. Open your imagination and learn to bring those characters in your mind's eye to life on paper.
Tour guide and advisor for this class is Julie Larson, nationally syndicated cartoonist and developer of the cartoon, The Dinette Set. Ms. Larson will discuss the creative development of your comic ideas, the artistic mechanical individual drawing process and style. Character development and an introduction to the business of drawing a daily and Sunday cartoon will be covered. Julie will give everyone a behind the scenes look into the world of syndications and beyond. All you will need to bring for class is your imagination, everything else will be supplied.
The classes will be held on June 23rd, 24th, and 25th. From 9:00 a.m. till 11:00 p.m. Call 732 8770 for more information.
---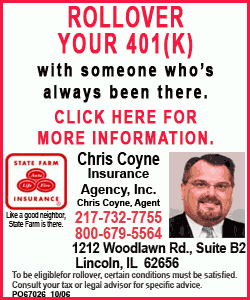 They will walk a mile or miles in their own shoes.
The Christian Village Memory Walk team, "The Village People", want to extend their thanks to the people who came to their yard sale on May 31st. The total proceeds of $250.00 will go to The Alzheimer's Association- Greater Illinois Chapter. The group is well on their way to reaching their goal of $1000.00 for the Alzheimer's Association Memory
Walk, which is September 20, 2008. The walk will be held at Washington Park in Springfield, IL. This is the nation's largest event to raise awareness and funds for Alzheimer's care, support and research. This inspiring event, held annually in hundreds of communities across the country, calls on volunteers of all ages to become champions in the fight against Alzheimer's disease. For more information you can go to
www.alz.org/walk.
---

Remember when dancing was dancing?
If the hit show "Dancing with the Stars" has given you the urge to move your feet to music, the VFW post 1957 Dance Club might be for you. This Sunday, June 22nd, the post will host ballroom dancing featuring the Bobby Remack Band. The dance is from 6:30 p.m.-9:30 p.m. The VFW invites everyone to join their dance club or just come out and find out how much fun they have. The VFW is located at 915 5th Street in Lincoln.
---

Blessings arriving every day
Coleen Moore, Director at the Christian Child Care at 721 Wyatt Avenue says every day new blessings come in the mail or on a local truck and last week was no different. Moore said the center received a generous check from an Odd Fellows Rebekah Lodge member in the state of Virginia. The money will be used to purchase pool passes for school age children at the Lincoln Park District.
The Jefferson Street Christian Church gave the center a freezer which was quickly filled up with nutritious foods from the Central Illinois Food bank and the Midwest Food bank. This donation is on top of the church's regular donation to Christian Child Care.
Last but certainly far from least, Moore wants everyone to know a large donation from the Eaton Corporation in Lincoln allowed the center to pay off one of their debts completely.
---
Got a good piece of news, information or something that we can all brag about? If you do, e-mail Mike and let us tell everyone about it. Plus you can win cash. Every submission, whether we use it or not, will get your name in the "Close Up" grab bag. At the end of the month we will draw a name and someone will get $25.00 just for dropping us an e-mail. If you wish, we will be happy to donate your winnings to the organization of your choice.
You can contact Mike at mikefak@lincolndailynews.com.
[By MIKE FAK]