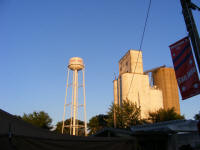 The citizens of San Jose went full-out in celebrating their sesquicentennial this weekend. The celebrants marked 150 years as a community with three days with plenty of fun activities, food, entertainment, exhibits and contests in the downtown area.

There were all the great small-community pleasures: fish and chicken fries, breakfasts, ballgames, tomahawk throw contests, water fights, fireworks, and a big parade.

The Bree Haus Auction building had an exhibition of the community's past in photos and collectibles. For some, it was remembering; for youngsters and newcomers, it was learning the community's rich past.

San Jose was established as a farming community with railroad access. Lower housing costs and a panoramic view of countryside make this wide spot in road along Route 136 more of a bedroom community today.
pictures by Jan Youngquist