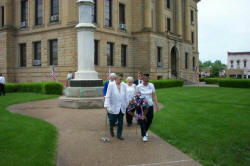 New memorial stone to soldiers dedicated at Logan County Courthouse

Send a link to a friend
[May 27, 2008] As if on orders from the commander in
chief, the morning rains parted from the Logan County Courthouse in time for the county's Memorial Day service. The occasion this Memorial Day was to dedicate a new monument to the men and women of the five services who have served their country unfailingly over our country's history.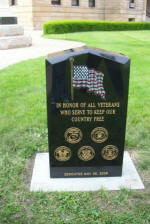 The marker, of polished stone with a beautifully colored engraved flag, is the first such testimonial to all servicemen and women to be located on the square.

Originally the stone memorial was not the intention, coming via as unlikely a source as a parody of the Clement Moore poem "'Twas the Night Before Christmas."

"Louella Moreland at the library, who has a son in Iraq, mentioned a poem written as an illustrated book called 'The Soldier's Night Before Christmas,'" explained Roger Matson, Main Street vice president. "She said how much her son enjoyed the book, and I called Tecia Hennessy to spearhead a drive to get this story out to as many servicemen and women as possible before the Christmas holiday."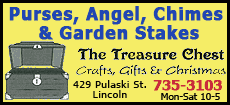 Matson told the crowd at the dedication ceremony that 340 servicemen received the book, but the story didn't end there. With the amount of donations left over and business and individual enthusiasm and support still strong, the opportunity of doing more was turning from a possibility to a reality.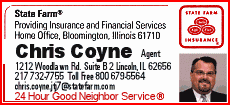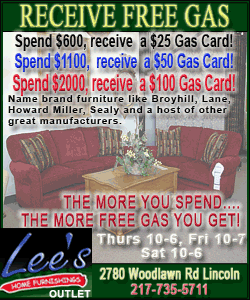 "We have the All Veterans Park, which honors all servicemen and women from all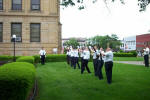 wars, but on the square the only memorial we have is to the veterans of the Civil War. We thought it was time to have something more here in the heart of our community," he explained. Thus the drive to have a monument built and installed on the square began, with the goal of having it ready for dedication this Memorial Day.
In a life lesson on the power of the word and of the spirit of the people of this country, all who visit the square for decades, if not centuries to come, will now see a monument to those who served, which came about from a simple poem. A simple poem telling the story of a soldier too far away from home on that most important of holidays, and of a group of local businesses and individuals who were determined to pronounce in the permanence of stone that we have not forgotten and never will.
[By MIKE FAK]