Atlanta shopping, LCHS music students, Head Start thanks Woody and Sue Jones, 4-H achievement winners, and Hartsburg-Emden honor roll in Close Up
(Click on pictures for larger images.)
[November 04, 2008] Start Your Holiday Shopping in Atlanta Nov. 9
Mark your calendar for the 5th Annual One-Stop Holiday Shopping Day in Atlanta, Sunday, Nov. 9, 2008, at the Atlanta Memorial Community House from 1-4 p.m. The Community House is located on 6th Street, adjacent to the park.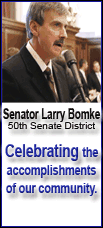 Shop from displays of: At Home America (Brenda Garey), Babyations (Jennifer Prather), Grubbyland Candles (Sherry Hoppe), Lia Sophia jewelry (Judy Nevenner), Mary Kay (Katie Hoinacki), Party Lite (Sam Renfrow), Tastefully Simple gourmet foods (Krystal Salvator), Thirty-One Gifts (Kara Schmidt), Tupperware (Amy Naughton), Upper Case Living (Laura Kruger) and Pampered Chef.

Door prizes will be given away every hour at 2:00, 3:00, & 4:00 p.m. You must be present at drawing time to win a door prize. Be present for a new chance to win each hour.
---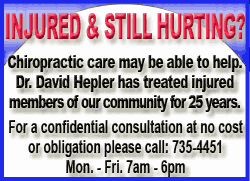 ---
LCHS music students represent school and community
Six music students represented LCHS at the Illinois Music Educators Association District IV Music Festival at Western Illinois University in Macomb on Saturday. Pictured (from left) are Katy Reynolds, Burgandy Henderson, Rigoberto Ernst, Lorenda Kirby, Cody Garretson and Kelly Knecht.
Participating students at each of the IMEA's nine district music festivals audition to be selected for the IMEA State Music Festival in Peoria later this year. Students spent the day at the district festival auditioning for the state festival and practicing for a public concert held Saturday afternoon.
These six students were among approximately 200 who took part in the festival, which included chorus, band and orchestra. Participants at the District IV festival were chosen from over 600 students who auditioned Oct. 13 at Petersburg Porta High School.
Most students will learn soon if they qualified for the state festival. Kirby, however, earned the top score among all 2nd sopranos at the festival, which earned her automatic qualification for the state festival.
Ernst was one of five students chosen to perform a vocal solo during one song performed during the choral portion of the concert.
[Text from file received from Loyd Kirby]
---
Head Start thanks Woody and Sue Jones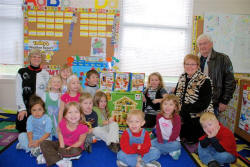 The Community Action Head Start classroom located at Centennial Courts in Lincoln would like to thank Woody and Sue Jones (pictured at far right) for their generosity. The couple has provided wonderful materials to the program many times in the past. On October 27 they donated a beautiful Terrace dollhouse made of natural wood for the classroom.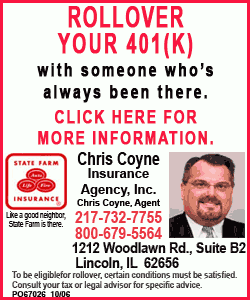 Many Logan County children will benefit and play with this new classroom item for many hours in the years to come. Head Start is so appreciative of the Jones couple for caring about the children in our community enough to purchase such a high-quality item for the center. Their gift even included furniture for the bathroom, the living room and the kitchen! The children couldn't wait to begin playing.
Community Action Head Start provides opportunities to help children develop socially, intellectually, physically and emotionally in an age-appropriate manner. Community support is critical to our success and we are very appreciative of Woody and Sue Jones' gift. We encourage parents to inquire about Head Start applications by calling 217-732-2159, ext. 250.
[Text from file received from Merna Lichtenwalter, Community Action Head Start teacher, and Courtney Stewart, Head Start director]
---

4H Achievement winners announced
Logan County held its annual 4-H Achievement Night on November 2, 2008 at the Lincoln Park District Rec Center. Approximately 105 4-H members, leaders, and families came to congratulate the award recipients. This year's event included a potluck dinner before the ceremony!
The top award winners in the major award categories on November 2 include the following: (Click here.)
---

Hartsburg-Emden Honor Roll
Close Up is always delighted to give the youth of this community the recognition they deserve for jobs well done, and that most certainly includes academics. To see the complete list of Hartsburg-Emden students who made the first nine weeks' honor roll, click here.
---
Got a good piece of news, information or something that we can all brag about? If you do e-mail Mike and let us tell everyone about it. Plus you can win cash. Every submission, whether we use it or not, will get your name in the "Close Up" grab bag. At the end of the month we will draw a name and someone will get $25.00 just for dropping us an e-mail. If you wish, we will be happy to donate your winnings to the organization of your choice.
You can contact Mike at mikefak@lincolndailynews.com.
[By MIKE FAK]