City attorney Bill Bates explained that the agreement allows the mayor to sign a license agreement between Lincoln Town Center and St. Clara's Manor. Once the work is approved by city engineer Mark Mathon and sewer manager Dave Kitzmiller, the city would sign an easement agreement with Lincoln Town Center to take over the sewer line.

Siren bid goes to city business

A bid for a new siren to go on top of the Lincoln City Hall was accepted from Lincoln Land Communications. The bid of $13,822 was $6,000 less than the next closest of two other bids. Comment was made that it was good to be able to choose to do business locally.

Logan Street railroad crossing to see improvements

The council received a letter read last week from the Illinois Commerce Transportation Committee, Rail Safety Division. Railroad crossing improvements were proposed for the Illinois Central Railroad crossing at Logan Street. The improvements would include automatic light signals and a gate with a bell.

Aldermen approved the request, which would use $16,042 out of the city's motor fuel tax pool as 10 percent matching funds for the project. The grade protection fund covers 85 percent of the costs, and the remaining 5 percent is covered by the railroad.

When this improvement was brought up last week, Mayor Pro Tem Marty Nietzel asked city engineer Mark Mathon, "How are we getting this fixed, and the one on Kickapoo Street is a mess?"

The Kickapoo Street crossing grade has a history of being rough and has become increasingly rough since it was upgraded just a few years ago.

Mathon said that he had just been in contact with the state, who said that they do not address anything within 20 feet of a railroad crossing.

He submitted a form to the railroad, and they responded saying that they are not responsible for anything 2 feet outside of the tracks.

He said he would now be sending letters to both asking what would need to happen to get this resolved.

Jumbled paperwork

Contrary to appearances if anyone would look at the state EPA website, everything is fine at the Lincoln wastewater treatment plant. Manager Dave Kitzmiller said that he has addressed the issue of a notice of violation that was errantly placed on the site. The city has not been in violation.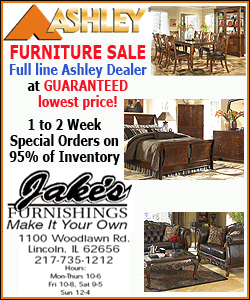 Earlier this year the city began CSO studies in compliance with the upgrades that were made to the wastewater treatment facility a few years ago. The EPA thought they had not gotten the paperwork. Kitzmiller called the state authorities with the receipts, and even as they spoke, the man in charge could see the paperwork sitting before him on his desk. They were working to get the violation taken off.
In another matter, Kitzmiller said that he had been contacted by the Clinton Landfill that they are looking for someone to take their leachate. Leachate is liquid that filters through a landfill, is collected and processed. The treated water is returned to a waterway.
There was no further discussion on the matter.
Liability insurance
The city has determined to go out for bids on its three-year contract for liability insurance.
Oak Park Drive
A resident of Oak Park Drive, Jan Taylor, wrote requesting to have city services provided. The street is located near Fifth Street and Memorial Park, near the center of a condominium association, and leads to four to five condos that constitute as many as 11 homes.
City engineer Mark Mathon recalled for council members that the city was asked to take over the drive back in about 2001. However, the cul-de-sac sat a bit high, it was a substandard width, and there was no right of way. The residents were told what would need to happen back then for the city to take it over. But nothing happened, he said, and it has remained a private drive.
It was mentioned that they might at least get snowplow service.
"It would be nice to see what we could do. They do pay city taxes," Alderman Verl Prather said.
Birthday
"Happy Birthday" was sung to Alderwoman Joni Tibbs at the conclusion of last week's council session.
[By JAN YOUNGQUIST]