S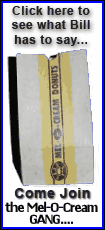 he did attend college for a year, but left to attend airline training school. She then became a reservationist for Ozark Airlines in Springfield, but eventually the commute and rotating shifts began to take their toll. So, she began to look for a full-time job back home.

Little did she know she was headed toward a long, off-and-on career in county government. Her first time working for Logan County was from 1960-1970 working for Earl Madigan, circuit clerk and recorder. She left when her second child was born and was a stay-at-home mom for a bit.

In addition to working for the county she has also worked for the Agricultural Stabilization and Conservation Services office, for Lincoln radio station WPRC in selling ads, for the Lincoln Family Medical Group, Economy Insurance Company, and MII Inc. Her part-time work included working for then county Treasurer Herman Dammerman during tax season and a 20-year stint as radio announcer for Zion Lutheran.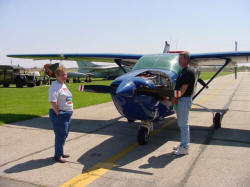 HIF member JoAnne Marlin chats with a visitor in front of two Cessna 0-2s during Airport Daze last May.
[click on picture for larger image]
When she was laid off from MII in March of 1991, she returned to the courthouse again. She began working part time for the county clerk, Weldon "Pete" Frantz, and part time for the county board as their secretary and insurance person. This time she stayed.
Her job now encompasses an impressive range of duties. Taking and transcribing notes from meetings, handling the many phone calls and e-mails that the board receives, acting as liaison between officeholders, county board members and others, and bringing questions and concerns to board members are just a few of her many duties. She also handles all of the insurance programs for county employees.
Along the way she has enjoyed special achievements. Most recently she applied for and received three grants, which were applied to measures taken for the safety and security of county employees at the courthouse and in the Logan County Safety Complex. She also was a member of the first organized safety committee and the committee for the 100th anniversary celebration of the courthouse.
Her capability as the most efficient of county board secretaries is not lost on the board members. Repeatedly, county board members comment on her above-and-beyond efforts that make their jobs easier or have a direct benefit to the public. Dick Logan, county board chairman, perhaps summed it up best: "JoAnne does a lot for this county. She helps us with many, many things, and I personally can't thank her enough for her hard work and dedication to the job. When the day comes for JoAnne to leave, the board will have to find superwoman to take her place."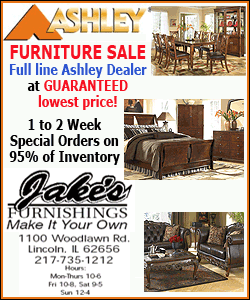 An exceedingly visible member of the community, JoAnne loves to attend community events. She tries to go to anything that needs a county presence, particularly if the busy board members might not be able to make it. Among her favorites are the dinners and the airport events. One particular treat she recalled was her first hot-air balloon ride when the county was sponsoring a balloon. She also enjoys helping tourists and participating in the Christmas parade.
Over the years, her job has not been without excitement, like an incident in the 1960s when a prisoner tried to overtake an officer, and JoAnne opened her office door to find the officer pinning him to the floor!
The job has also not come without tragedy and sadness. JoAnne recalls, "The most difficult occurrences would have to be the deaths of county board members while still in office: Robert "Bud" Behrends (1994), Bob Welch (1998) and Lloyd Hellman (2003)."
Also, like many working in the courthouse, she was deeply saddened when Pete Frantz passed away (2004). "He was a dear, dear man and friend to me and everyone," she said. After his retirement, Pete had kept up the habit of morning coffee in what is now the office of Sally Litterly, county clerk and recorder, reviewing the work coming in, offering Litterly advice and visiting with courthouse employees. He was another dedicated county employee who, like Marlin, took his service to the public seriously and did it with graciousness.

Logan County Board in 2007
Left to right, sitting: Vickie Hasprey; JoAnne Marlin, administrative secretary; and Gloria Luster.
Standing: Pat O'Neill; George Mitchell; Dick Logan, chairman; Terry Werth; John Stewart; Michael McIntosh; Bill Sahs; Rick Aylesworth; Chuck Ruben;
and Bob Farmer.
[click on picture for larger image]
In her small amount of free time, JoAnne enjoys photography, a hobby she began in the seventh grade. She is also working on documenting her German and Swedish ancestry. She's been a Sunday school teacher and currently serves on the archival committee at Zion Lutheran Church.
But, family is where her heart is. Her grandchildren's activities and numerous sporting events, plus picnics, barbecues and celebrations with family and friends occupy most her free time.
What's most important in her life? As JoAnne puts it, "Last, but not least, just being available for my son and daughter for babysitting duties, taxi driver, consultant, friend and just being a mom."
[By GEOFF LADD]