Chance meeting brings Lincoln-Douglas debate to Lincoln College

Send a link to a friend
[November 10, 2008] "Reunion '08," a celebration of the 1858 Lincoln-Douglas debates, visited the Johnston Center for Performing Arts at Lincoln College on Saturday evening.
(Tim Connors as Douglas. Click on picture for larger image.)
Lincoln College was not on the original list of tour stops for this re-enactment. According to Kerri Taylor, special events coordinator at the college, the two men who portray Lincoln and Douglas, George Buss and Tim Connors, were in attendance dressed in full garb at a Cubs-Cardinals game on July 6, when a group from Lincoln College was also in attendance. Buss and Connors called on the group in their private party room, spent the rest of the day with them and ended up adding the college to their list of performances.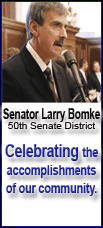 Taylor said it seemed like an obvious choice because the college had been named for Lincoln, and groundbreaking for the campus was done on Lincoln's birthday in 1865.

The evening was dedicated to community outreach and appreciation, with tickets given to area businesses, donors and supporters of the college, and a dessert reception was added after the program.

Hal Smith, director of the Looking for Lincoln Coalition, offered opening comments and a brief biography of the three-man troupe from Freeport.

Lincoln is played by George Buss, a 20-year veteran of the role, who has performed across the nation as well as appearing twice on C-SPAN during the network's 1994 re-enactments of the debates.

Tim Connors brings Stephen Douglas to life for the audience. A director of theater and teacher of speech at Freeport High School, he is better known for his depictions of Franklin Delano Roosevelt in Freeport area theater productions.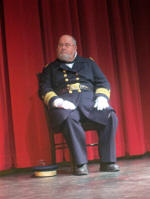 Ed Finch (pictured) has a doctorate in history, is the current president of the Lincoln-Douglas Society, authored the script of "Reunion '08" and also portrays the debate moderator, naval officer Silas Terry.
In this modern-day rendition of the debates, Lincoln and Douglas have traveled through time, have enjoyed their successes and failures, and are now looking back on the past. The setting includes a team of reporters from local media. Each reporter was allowed to ask one or two questions of the candidates, plus questions were taken from the audience.
When Douglas responded to a question regarding the switching of the names from the Douglas-Lincoln debates, as they were known in 1858, to the Lincoln-Douglas debates, as they are known now, he brought laughter and applause as he cried out; "After 150 years of playing second fiddle, I do have a comment!!" As he recited his impressive political resume, he bemoaned his diminished importance in his own Democratic Party, accenting it with, "And POOF, I disappeared!!" As he points accusingly to Lincoln, he cries out: "His face is on the $5 bill! Can I get my face on the penny?? OH, NO!! His is on that too!"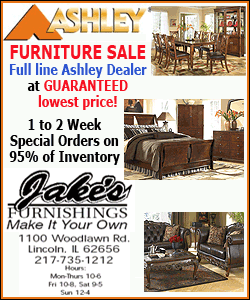 Throughout the evening, Buss portrayed Lincoln as a laid-back, simple-speaking person with a talent for yarning tales and bringing his points across with humor. When called on to read from some of his speeches, he deliberately digs through numerous papers stuffed into his stovepipe hat, searching for the proper item, and is rewarded with laughter and applause from the audience.
At the closing of the performance, Douglas called on Lincoln to read from one of his speeches "the most moving words ever uttered to us as a people and a nation."
The auditorium fell to complete silence as the words spoken by Lincoln at the second inaugural in 1865 traversed through time and applied themselves to current events: "With malice toward none, with charity for all, with firmness in the right, as God gives us to see the right, let us strive on to finish the work we are in, to bind up the nation's wounds, to care for him who shall have borne the battle, and for his widow, and his orphan -- to do all which may achieve and cherish a just and lasting peace, among ourselves, and with all nations."
[By NILA SMITH]