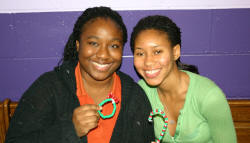 Lincoln College students Jaydeh Sleh (left) of South Holland and Danielle Stanley of Dolton show ornaments that will be made at the Dec. 6 event.
[Photo by John Stoltzenburg]
(Click on picture for larger image.)
Coordinating the program is John Stoltzenburg, student activities director, who says he thinks it is a wonderful way to celebrate the season.
"Our students are always looking for ways to get involved with our community," Stoltzenburg said. "This is a perfect way for kids to come in for a couple hours, give Mom and Dad a break, and get some help with creating a Christmas gift for their loved ones."
Lincoln College students Danielle Stanley of Dolton, a sophomore, and freshman Jaydeh Sleh of South Holland came up with the idea to do the program. Both are members of the Student Activities Council at Lincoln College and are constantly looking for ways to enhance their collegiate experience.
"We both have experience working with children and figure it's a great way to interact and make something in the process," said Stanley. "I'm studying education courses, and this program will give me valuable experience relating to children," she said.
The program is free, but space is limited for only 20 children. Registration is required in order to have enough supplies on hand. Call Stoltzenburg at 732-3155, ext. 327, before the registration deadline of Dec. 4.
[Text from file received from Lincoln College]