Despite a Friday morning temperature of 15 degrees, Ash took his place on the canopy roof above the IGA's front doors. He will be there again Saturday trying to bring attention to the food pantry's needs.

Prepackaged bags of groceries are available at the store with price ranges of $5, $10 and $20. Any cash donations will be used by food pantry staff to purchase items need to balance their shelves.

The food pantry is administered and run by an all-volunteer staff.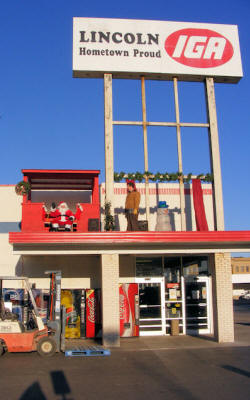 Above, Santa waves to the crowd. The forklift at left is to help Santa get up and down from the roof, as his reindeer are still on vacation in Florida resting up for their big night.
[LDN; pictures by Karen Hargis]