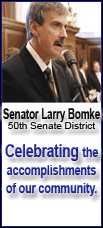 Ash sat atop the Lincoln IGA roof both Friday and Saturday dressed as Santa as Maxwell walked the parking lot, both braving a chilling Friday and a downright cold Saturday to help promote the food drive at the Lincoln IGA.
The stunt of putting Ash up on the roof of the Lincoln IGA was to visually bring to light the second annual Lincoln/Logan County Food Drive that was held Friday and Saturday.
The intention of the food drive was to help stock the local pantry throughout the rest of the year.
Food pantry officials noted that it will be at least several days before the complete results of the drive can be determined. Several groups still are collecting food and cash and won't be turning in their collections until later in the week.
It is difficult to gauge whether this year's drive will surpass last year's at this time. Although 13 truckloads were collected last year compared with this year's seven, the truck used this year was a 1-ton donated from Graue Inc., while last year, several smaller SUVs were used to transport food.
Several involved with this year's drive also remarked that there were a great deal more $10 and $20 bags of groceries donated than last year, when many $3 and $5 bags took up truck space.
There have been many remarkable donations from area churches, civic organizations and individuals this year that also must be considered as part of the effort, and those results will all be considered in the success of the drive.
There is also an ancillary benefit to the drive that cannot be gauged but is certainly welcomed by food pantry volunteers. That is the fact the coverage of the event refreshes the awareness of the needs of the food pantry to the entire community and will spawn donations and drives throughout the remainder of this year and the next.
[By MIKE FAK]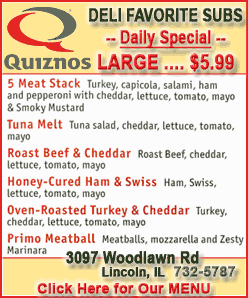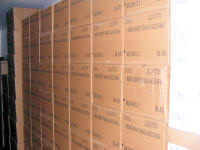 For the family, there have to be snacks before the holiday meals, and thanks to Sysco Foods, food pantry clients will have them. The food distributor in Lincoln donated 70 cases of nacho chips to the pantry this past week.