Smoking ban scofflaws hold unfair advantage
Fairness for all businesses essential

Send a link to a friend
[October 29, 2008] The bar is modern, well-lit and impeccably clean. The area of more than 1,000 square feet has three giant-screen televisions as well as a half-dozen smaller televisions, making those important games viewable from almost every table in the room.
The restaurant menu carries two dozen staple, American foods, including burgers, hot dogs and fries. The clean tables have condiments ready to add that little extra to one's favorite sandwich. The only thing that's missing in this bar-restaurant compared with some others today is ashtrays. They are missing because the state of Illinois passed a ban on smoking in all public buildings, effective Jan 1, 2008.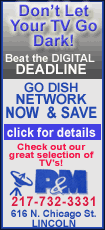 Shawn Taylor owns and operates the Logan Lanes bowling alley on the west end of town, and he has adhered to the new law since day one.

The frustrating question that he and most of the establishments in the county who follow the law are asking is, "When will the law be enforceable?" And then who would, and when would the law in fact be enforced?

Taylor is hearing that there are bars in the area that are allowing smoking later in the evening as well as on the weekends. He says he is constantly being asked by bowlers when he will begin to allow the same in his establishment. He quickly points out he has no intentions of changing his stance on keeping the bowling alley smoke-free. "This is a family-oriented business. We have a lot of young bowlers," he said.

Before the new law, Taylor offered smoke-free days at Logan Lanes so that families and children could bowl together without any fear of secondhand smoke.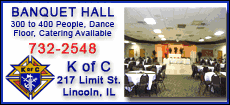 Still, his bar business is significantly down, and he feels that by following the law, he is placed at an unfair disadvantage.
Taylor doesn't care to criticize businesses but rather goes to the point of the issue: "If no one can enforce it (the Smoke Free Illinois Act), is it in fact a law?"
Taylor thinks two issues might drive more businesses to take their chances with flaunting the ban as the winter progresses. He stated that in a soft economy, business owners will do whatever they can to keep customers, which might push them to also ignore the ban. "If you are fighting for your business, and allowing smoking can save you, what is an owner to do?" he asked.
Taylor also questioned what will happen as the weather turns colder and it is far less comfortable for smokers to go outside. Will they then start going to bars that allow them to smoke inside?
He finds no fault with businesses, nor with the Department of Public Health, which has no means of late-night and weekend surveillance of area businesses.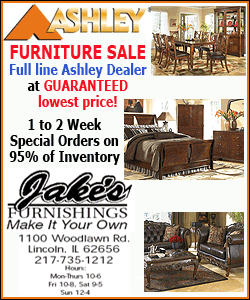 Instead he directs his ire at the law and why it isn't being corrected.
"In California, when the smoking ban went into effect, boom, it was enforced," he said. Taylor surmised that at that time the majority of Californians wanted the ban, and so it was followed, but he isn't sure if that's the case in Illinois.
Regardless, he hopes the law is corrected so that he and all the other law-abiding businesses in the area, as well as around the state, get back to an even, competitive footing for those all-important bar dollars.
In the meantime, he will offer a smoke-free environment that will allow patrons to go home, as one employee said, "not smelling like an ashtray."
The great majority of Logan County businesses strictly adhere to the law. However, according to Mark Hilliard, Logan County Department of Public Health administrator, those not following any state law, including the Smoke Free Illinois Act, risk having their food or liquor licenses suspended or revoked.
[By MIKE FAK]
(See the Smoke Free Illinois Act.)
Previous related articles