What will make the display all the more interesting to see is that it will be an as-near-to-authentic-as-possible creation of what it would have been like in 1865 to have attended the funeral of our favorite president, Abraham Lincoln. This Lincoln exposition will be a benchmark to live up to. The presentation could offer the most complete gathering of Lincoln funeral and 1865-era memorabilia collected in one location.
The idea was started by Chuck Fricke several months ago. Since that time the event has taken on steam, and the amount of artifacts, help, enthusiasm and effort put into making this display something remarkable has grown exponentially.
Not only has the Museum of Funeral Customs in Springfield jumped in to help by supplying the casket reproduction that carried our 16th president as his body toured the country, but the highly praised and acclaimed Abraham Lincoln Presidential Library and Museum is allowing some of its displays to be included in the funeral home's re-creation as well.
There are so many more special and unique collections and artifacts that will be on display that it is impossible to list them all in this one article.
Fricke, one of the owners of the funeral home, said that he has been taken aback by all the interest in next weekend. Because of limited space to move through the displays, reservations were requested for the Friday evening hours. The response has been overwhelming, and Friday hours are now closed.
In response, Saturday hours have been expanded. The display will be open to the public from 10 a.m. to 2 p.m., and would continue until at least 4 p.m. or later if there is still a crowd, Fricke said.
The sense of accomplishment and just how special this upcoming event will be is not lost on any of those involved. The event coordinators realize how unique this once-in-a-lifetime display is and will be as amicable as possible with those who want to get a sense of this historic moment in time.
Geoff Ladd, director of the Abraham Lincoln Tourism Bureau, commented, "We are all amazed at the cooperation we have received from so many prestigious museums, which includes our own Lincoln Memorial Museum on the Lincoln College campus. In a day and age where tourism is facing severe budget cuts, we are proving that we can do this on our own."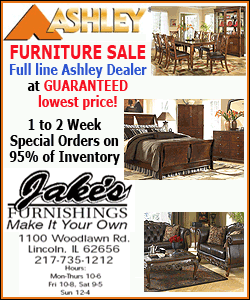 Ladd went on to praise Fricke for not only the idea of re-creating the Lincoln funeral, but also for his enthusiasm that has caused others to want to be included in the event.
Paul Beaver, a city of Lincoln resident and renowned historian, added, "We are all excited and enthused. This is one of the most unique Lincoln presentations that I believe has ever been put together."
Ron Keller, assistant professor at Lincoln College and curator of the Lincoln Memorial Museum, agreed with Beaver that this was turning into a remarkable gathering of memorabilia, as well as a chance for people to get a sense of the times in which Lincoln lived, and in which President Lincoln tragically died.
LDN will be proud to include the complete list of everyone involved with this remarkable display when it is concluded.
The exhibition's title, "Now He Belongs to the Ages," is fitting, as this display for this singular time will also be one for the ages, maybe for all time.
You are invited to a funeral presentation of President Abraham Lincoln:
"Now He Belongs to the Ages"
Saturday, Sept. 13, 2008
10 a.m. to 2 p.m., or longer
Fricke-Calvert-Schrader Funeral Home
127 S. Logan, Lincoln
[By MIKE FAK]
Past related article