Looking back on those early Railsplitter festivals

Send a link to a friend
[September 09, 2008] The roots of the Railsplitter Festival begin in 1970 at Jerry's Drive-In on Woodlawn Road in Lincoln. Daris Knauer met with LeRoy Buckheit, the co-chairman of tourism for the Lincoln Chamber of Commerce. LeRoy was "flipping burgers" in his restaurant as they talked, because there was a busload of people in the restaurant. Daris had an idea about having an event that was related to Abraham Lincoln's days in Logan County. LeRoy mentioned that they should name it the "Railsplitter" because Abe Lincoln was known for splitting rails. The Lincoln Chamber of Commerce sponsored the first and second Railsplitter events.
During the first Railsplitter, a man from Petersburg named Johnny Jones split rails for the state of Illinois and later became a judge at the inaugural event. Soon after, Johnny established "rail rules" for the competition. These rules have evolved over the years but have stayed generally the same. Paul Harvey, the famous radio personality, was heard to mention that the first Lincoln Railsplitting Festival was held in Lincoln, Ill.

The fairgrounds hosted the festival for the first two to three years; however, those in charge thought it would be more appropriate for the event to be on the grounds of Lincoln College, named for Lincoln before he died. A parade starting in downtown Lincoln and ending at the Lincoln College campus kicked off the festival.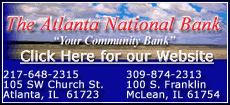 However, in the 1970's an ice cream social was the starting event for the weekend. The ice cream social had another purpose besides quelling the desire for ice cream; the number of ice cream social tickets she sold selected the Railsplitter queen.
The Railsplitter Festival was at Lincoln College for several years, until it grew too big for that location and was moved back to the Logan County Fairgrounds.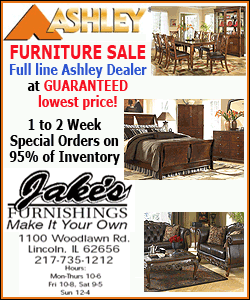 Some of the events were a cow chip throwing contest, a cow and goat milking contest, wooden shingle (shake) making contest done with a wooden fo (tool), goose plucking, sheep shearing with hand-cranked clippers, watermelon seed spitting contest, tobacco spitting contest and much more.
It was with pride that Lincoln was the "Home of the Original Railsplitting Festival" and should be known as "The Railsplitting Capital of the World." It spurred other national competitions. States represented in this festival were Missouri, Kentucky, Indiana, Iowa and Michigan.
In 1976 President Gerald Ford came to Lincoln on the Amtrak train. All the planning for his visit took place in congressman Ed Madigan's office. Knauer shared the story of how they arranged to have President Gerald Ford re-enact the christening of the city of Lincoln from the platform of the train with a cup of watermelon juice, in spite of his security guards discouraging this act. Daris also tells the story of how he "told the president what to do" by telling him how to "split a rail." And he did!
[Text from file received]