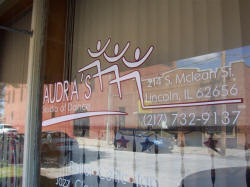 Dancing a life's passion at Audra's Dance Studio

Send a link to a friend
[September 24, 2008] Audra's School of Dance, located at 214 S. McLean St. in Lincoln, offers a wide variety of activity for anyone ranging from 3 years of age to ... well, there is no age limit actually. The school's enrollment averages about 200 students per year. Owner Audra Turley, who has been a dancer since the tender age of 3 herself and is a Lincoln native, has been helping children and adults for two decades to tap, clog, ballet and even tumble their way through the numerous courses that she offers. Other exciting dance techniques offered are Celtic and jazz.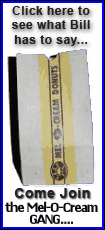 Turley's dance career began right here in Lincoln under the teaching of the well-known local instructor Bernadeane Grimm. In Audra's early teens she had the privilege to assist Bernadeane with teaching certain classes and soon after had the opportunity to learn an entirely new dance technique called clogging.

Both teacher and pupil soon agreed that clogging should be brought to the Lincoln area and offered to all willing to learn. Thus, the famous Flying Feet Cloggers team was born. The cloggers have since become national title winners in their class. The competition dance team has also received the highest accolade, claiming three national wins.

When Audra finished high school, she went on to college and continued until completing her master's degree in ballet art and musical art from Western Kentucky University. With a love for teaching planted within her at such a young age, she knew just where she was heading after college. She co-owned the Lincoln dance studio with Bernadeane Grimm from 1988 to 1997, and in 1997 she became sole owner.
The school has seen older dance students use the classes for physical therapy purposes. At one time Audra had a student who was almost 70 years old and was taking ballet to help with her arthritis problems.
The school's focus for the young students is for them to gain skills such as good balance, body and muscle control, and good coordination. Most importantly to Audra, and what has made the school so successful, is the gain in self-esteem that the classes offer a child. The self-esteem factor is worked in through the social outlet that the classes provide and learning how to work well with others, encouraging classmates through their learning process.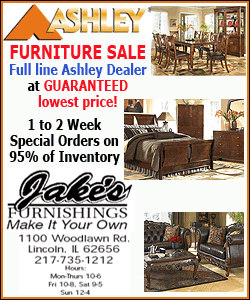 There is one recital every year, but participating is not mandatory. Knowing that it is very difficult for some students to get on stage, Audra states, "I do not pressure any of my students to perform in the recital." She adds, "I do encourage them, though, to try and help them get over the stage fright. It really does boost them in the end."
Some of her students make sure to stay a part of the school even after high school graduation. "There is definitely a family feel with all of the girls," says Audra, "especially with the ones who stay all throughout. A real bond is formed." She adds that many of them stay in close contact with each other as they get married and start families of their own.
As for Audra, she will stay here in Lincoln, continuing to instruct and mold new generations of dancers, passing on to them her love and passion for the performing arts.
Audra resides in Lincoln with her husband, Brian, and their 6-year-old daughter, Faith.
For further information on the classes offered at Audra's Studio of Dance, contact her at 732-9137.
[By JANELL WOOLARD]