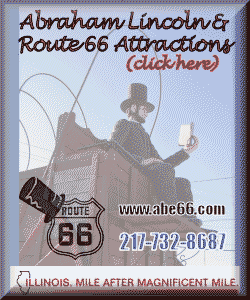 Community calendar compiled by the Abraham Lincoln Tourism Bureau of Logan County
(From file received Sept. 6, 2007)
Aug 22 – 24, 2008 Lincoln Art & Balloon Festival. Come out to the Airport in Logan County to experience the beauty and wonder of Hot Air Balloons in flight. Downtown, see all of the art vendors and pick up some beautiful pieces. Activities include several balloon launches, evening balloon glows, musical entertainment, food, an art and craft show, the Art of Wine, and much more. For more information, please call 217-735-2385.
Aug 24, 2008 1800's Craft Fair. Postville Courthouse will once again be hosting their 1800's Craft Fair on the final day of the Lincoln Art and Balloon Festival. The Public is invited to come and see 19th century crafters from surrounding areas demonstrating their skills. Local crafters are also included. Music and other entertainment will be provided. Call 217-732-8930 or 217-737-0979 for more information.
Sep 12 – 14, 2008 Abraham Lincoln National Railsplitting Contest and Crafts Festival. 38th Annual festival will be a fun and educational event for all ages – rail splitting, corn shucking, tomahawk throwing, pioneer village, antique car and tractors, historical displays, Lincoln presentations, quilt show, crafters, flea market, kids games, food vendors and much more. Check out www.railsplitting.com or call 217-732-8687 for more information.
Nov (TBA), 2008 Christmas Memories Quilt Show. The Christmas Memories Quilt Show at Postville Courthouse State Historic Site will be back again this year. Featuring lovely period quilts of all designs and holiday themes. Hours are 12 PM to 4 PM. This show is co-sponsored by Postville Courthouse and Sew Many Friends. Come and enjoy the beautiful quilts and vote for your favorite. Tour the historic site at 914 Fifth Street in Lincoln. Free and open to the public. For more information, please call 217-735-4977 or 217-732-4527.
[Text copied from file received from the Abraham Lincoln Tourism Bureau of Logan County]