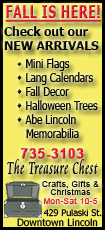 Flu shots are recommended for people age 6 months to 18 years, pregnant women, people 50 years of age and older, anyone with certain chronic medical conditions, and people who live with or care for those at high risk for complications from the flu.
At the health department, flu shots are $30 and pneumonia shots will be available for $45.
The flu season typically peaks in February, but people should get their shots between October and December, according to Shana Bean, the new emergency response coordinator and Pandemic Influenza Community Coalition facilitator at the Logan County Department of Public Health.
Ms. Bean was tapped for the job following the departure of Molly Jo Lamb, who now works for the Illinois Department of Public Health.
Bean graduated from Illinois State University in May with a degree in community health education. While attending ISU, she did her internship at the Logan County Department of Public Health, primarily in the health education office but also in the preparedness office. After graduating, she moved back to Lincoln and took a job up front as a support services clerk. A month later, her current position became open.
She has to balance her duties between her roles. "Iím becoming more familiar with exactly what my role is, but there's a lot to handle," she said.
In her responsibilities as emergency response coordinator, Bean coordinates a health department emergency response team that partners with city and county departments and agencies, the Logan County Emergency Management Agency, fire departments, police departments, and the hospital.
The public health-related role of the emergency response coordinator has many applications. Bean monitored the recent heavy rains and storms that have come through our area. She said that with all the floods up north, the concern was having people get a tetanus shot if needed. Septic runoff and farm chemical runoff are other public health issues to watch for during flooding, but Bean said that the conditions havenít been severe enough for her office to respond here in Logan County.
As facilitator for the Pandemic Influenza Community Coalition, "I facilitate quarterly meetings and update the committee on whatís going on with the bird flu throughout the world," says Bean, adding that they are trying to make the community more aware of the risk of pandemic flu -- ways to avoid it and ways to prepare.
A watch is also kept on seasonal flu as it approaches and its progression. The flu is already bad in Australia now, during their winter season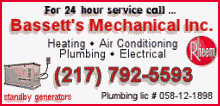 .
Many of the common-sense practices that would prevent the spread of the common flu would also help in the control of a more serious flu outbreak. The flu coalition works to educate the public on general flu prevention practices, in addition to providing information on how to be prepared and how people would be asked to respond if there is a more serious flu outbreak.
Bean recommends cold and flu prevention standbys -- hand washing, covering your mouth and nose while coughing and sneezing, not going into work when sick, and if you have to cough or sneeze in public, do so into the upper sleeve of your shirt.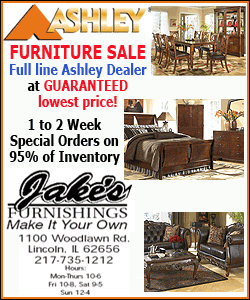 One of the challenges of the local Pandemic Influenza Community Coalition is that it started out with a huge attendance, but over time it has dwindled, mainly because the threat of bird flu isnít in the news anymore. Bean is optimistic that the preparedness group will regain members. "The e-mail list is large," she said. "We need to remind people that itís when, not if the next pandemic will occur."
As for updates on bird flu or avian flu, the number of cases of the illness is gradually going up. From the time the local coalition met in June to mid-August, there were two new cases in Indonesia, both resulting in death. There are still no reported cases of bird flu in the U.S., and officials are still not seeing human-to-human mutations of the illness, which could facilitate a pandemic. The concern remains as to how fast the bird flu would spread, due to the numbers of people flying on planes and the amount of international travel. "A lot more deaths are expected," warns Bean.
The next Pandemic Influenza Community Coalition meeting, which is open to public, will be Nov. 13 at 1:30 p.m. at the health department.
Also in the works for Bean is an effort to get doctorsí offices and pharmacies to report the number of flu shots given out every year. These numbers are added to the shots administered at the health department and can aid in understanding the percent of the population protected. The type of flu that may be spreading locally and the effectiveness of the vaccines are also monitored.
Bean also handles the Medical Reserve Corps. The Logan County MRC was established to promote public health and safety in the Logan County community. The corps is currently recruiting medical and nonmedical volunteers.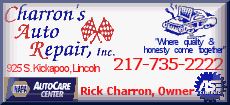 Bean says she is learning a lot and refers to her supervisor, Mark Hilliard, as "my go-to guy."
Bean and her family have lived in Lincoln since 1993. Her parents, Patricia and Clarence Quint, work at Abraham Lincoln Memorial Hospital. Patricia works as a registered nurse in the emergency department and Clarence is a certified registered nurse anesthetist. Shana has two sisters, Heather Bean and Crystal Quint, and one brother, Matthew Bean. Heather recently graduated from Millikin University with a degree in business, and Crystal is a freshman at Lincoln Community High School. Matthew is currently attending Heartland Community College and will be at Illinois State University in the spring to pursue a degree in business.
Shana likes to help others and she enjoys staying here in Lincoln, close to her family.
[Geoff Ladd, with contributions from the Logan County Department of Public Health]