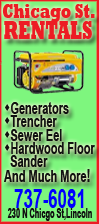 The preliminary second-season (Dec. 3-6) harvest total was 33,293, compared with the 33,701 deer taken by hunters during the second segment of the season in 2008. This year's preliminary first-season (Nov. 20-22) deer harvest was 66,126, compared with a first-season harvest of 71,894 in 2008. The preliminary harvest totals include deer taken in all counties in which firearm deer hunting is permitted, as well as Chain O'Lakes State Park in Lake County.

In Logan County, preliminary reports show that 235 deer were taken in the first segment of the season and 160 in the second, for a total of 395, compared with a total of 458 for the firearm season in 2008.
"Harvest during the second season was nearly identical to last year," said Paul Shelton, forest wildlife program manager for the Illinois Department of Natural Resources. "We did experience a slow start during the first firearm season. However, there are still plenty of hunting opportunities for hunters, with muzzleloader season and an expanded archery and late-winter firearm season."
Preliminary reports show that Pike County once again topped the county deer harvest totals for the firearm season, as hunters there took 3,265 deer. Other top county harvest totals were Fulton with 2,616, Adams 2,480, Jefferson 2,379, Jo Daviess 2,281, Randolph 2,256 and Jackson 2,153.
Hunters still have the opportunity to harvest deer in Illinois during remaining gun seasons and the rest of the 2009-2010 archery deer season. The three-day Illinois muzzleloader-only deer season is this weekend, Dec. 11-13, while the expanded seven-day split late-winter firearm antlerless-only deer season and special CWD deer season are Dec. 31-Jan. 3 and Jan. 15-17. The statewide archery deer hunting season continues through Jan. 17.
Permits for both the late-winter and special CWD seasons will be available over the counter through DNR Direct license and permit agents beginning Dec. 15.
Permits for the late-winter season will be issued in two categories, based on deer management needs in individual counties. In 11 select counties with a need for significant increases in deer harvest, hunters will be able to purchase late-winter permits without limit. In 59 other counties open for the late-winter season, hunters will be limited to purchasing one late-winter deer permit. As in years past, unfilled 2009 firearm, muzzleloader, youth and landowner firearm permits will be valid for this season provided that they were issued for an open county, but only antlerless deer may be taken.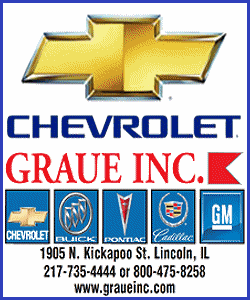 A list of counties that are open (and the permit limit for those counties) and closed for the late-winter season for 2009-2010 is available at this link: http://www.dnr.state.il.us/admin/pdf/
latewintercountieslist.pdf.
Hunters in Boone, DeKalb, McHenry and Winnebago counties and the portion of Kane County west of Illinois Route 47 can participate in the seven-day special CWD deer season Dec. 31-Jan. 3 and Jan. 15-17 to help control deer densities and the spread of chronic wasting disease. Special CWD season antlerless-only permits will be available beginning Dec. 15 over the counter for $5 each at participating DNR Direct license and permit vendors. In addition, hunters with unfilled 2009 firearm, muzzleloader, youth deer hunt or archery deer permits valid for one of the open counties may use those permits to hunt during the CWD season.
Hunters using unfilled permits from the 2009 firearm, muzzleloader, youth or archery season for the CWD hunt may take deer appropriate for that permit (antlerless-only or either sex). There will be no manned check stations during CWD season this year. Successful hunters should report their harvest by 10 p.m. on the same calendar day the deer was taken by calling the toll-free telephone check-in system at 1-866-452-4325 (1-866-ILCHECK) or by accessing the online check-in system at www.dnr.state.il.us. Successful hunters are encouraged to have any adult deer tested for CWD by taking it to a cooperating meat processor.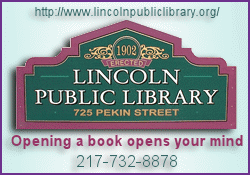 For preliminary harvest totals for all counties for the first and second portions of the 2009 firearm deer season, the preliminary total firearm harvest for 2009, and the comparable county harvest totals for 2008, click here.
[Text from Illinois Department of Natural Resources file received from the Illinois Office of Communication and Information]