Feb. 6
Mount Pulaski's Looking for Lincoln dedication
Mount Pulaski will be dedicating its Looking for Lincoln wayside sign, located next to the circa 1848 courthouse where Abraham Lincoln, Judge David Davis, Stephen A. Douglas, William Herndon and others were engaged in law practice back in the late 1840s on into late 1854. The dedication will start at 11 a.m. Friday, with a possible lunch planned to follow. More details to come.
Feb. 7
Abe Lincoln's birthday celebration at Postville Courthouse
Postville Courthouse will once again be celebrating Abraham Lincoln's birthday in style, and the public is invited to attend. The hours for the event are 10 a.m. to 4 p.m. Saturday. An Abraham Lincoln interpreter will be on hand to greet you. Postville volunteers will conduct tours and serve birthday cake and punch. Paul Beaver will give two afternoon presentations. Susan Kirby, local author, will give a presentation. Period music by the Postville Express will be playing throughout the celebration, and the Arts and Craft Guild will have their children's event from 10 a.m. to noon in the historic courtroom. Contest winners will also be announced. This event is free to the public, but donations will be accepted. For more information, call 217-732-8930 or 217-737-0979 or visit www.postvillecourthouse.com.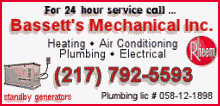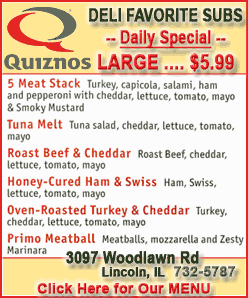 Feb. 8
Re-enactment of trial at Mount Pulaski Courthouse with Abraham Lincoln
This production, starting at 2 p.m. Sunday, will include a cast of 11 people, with the jury being selected from the audience. Professional Lincoln impersonator Joe Woodward will be back for his second appearance. Plan to see this final production of the Mount Pulaski Abraham Lincoln Bicentennial celebration. Limited seating is available by calling 217-792-5442 for reservations. The cost is $5 per ticket.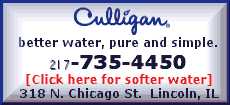 Annual Looking for Lincoln dinner
Come out and celebrate Abraham Lincoln's birthday with a dinner Sunday evening, hosted by Main Street Lincoln Looking for Lincoln and Mount Pulaski Looking for Lincoln. The event will be at the Maple Club and begins with a social hour at 5 p.m., followed by dinner at 6. A panel of noted speakers, including Paul Beaver, Guy Fraker and Ron Keller, will present a PowerPoint program as well as interesting facts about Abraham Lincoln and Logan County. Tickets are $25 a person and may be purchased at Main Street Lincoln, Beans and Such and State Bank of Lincoln. Additionally, tickets are available at Farmer's State Bank of Emden, Illini Bank of Elkhart, Salt Creek Attic in Mount Pulaski and Atlanta National Bank. For more information, call Main Street Lincoln, 732-2929.
[Text from files received from Abraham Lincoln Tourism Bureau of Logan County and Main Street Lincoln]