LCHS presents play this weekend

Send a link to a friend
[January 07, 2009] The Lincoln Community High School Theatre Department will present their winter play, "Pure As the Driven Snow or The Working Girl's Secret" by Paul Loomis, a melodrama in three acts, Friday through Sunday at the LCHS auditorium.
(Sophomore Kathryn Landgon attempts to comfort senior Ben Conrady during a rehearsal.)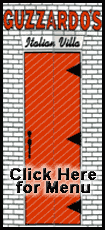 Tickets will be available at the door for the comedy, directed by Jennifer Keith. The showtimes are Friday at 7:30 p.m., Saturday at 7:30 p.m. and Sunday at 2 p.m.
Tickets are $6 for adults, $5 for students and senior citizens, and $4 for children 12 and under.
The show involves the innkeepers of the Uland Inn and their nephew, Leander, as he uncovers a plot to destroy his family's business and his destined wife-to-be, a woman he falls in love with at first sight. The evil villain Mortimer Frothingham vows to ruin them all in this melodrama. Actually, it's a parody of a melodrama, complete with the hero, the villain, the damsel in distress, the bumbling buffoons and laughter.
The cast includes seniors Karolyn White, Ben Conrady, Jessica Sutton, Alexandra Williams, Cody Follis, Todd Schumacher and Kaylyn Engelhardt; sophomores Kathryn Langdon, Stephen Oney, Trevor Arrington, Mary Delgado, Abby Parmenter and Falon Brumfield; and freshmen Selena Matson and Sara Buchanan.
In guest roles are Greg Harmon, Ryan Brown, Michael Halpin, Victoria Haferkamp and Felicia Jackson, among others.
[Text from file received by Jennifer Keith, English Department, Lincoln Community High School]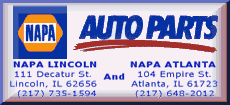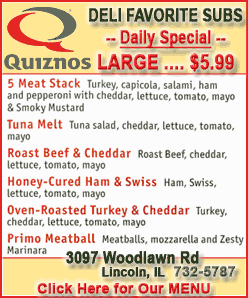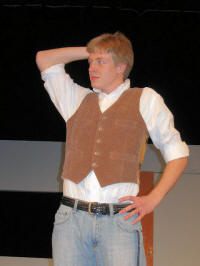 Senior Cody Follis strikes a heroic pose during rehearsal.