At the Logan County board-of-the-whole meeting Thursday night, animal control chairman Gloria Luster told board members about the committee's proposal to raise what is currently a $75 fee. This is a fee that would be charged specifically and only to non-contracting entities. The committee recommended a base fee of $200 per call that would be charged to any non-contracted entity.

The county offers annual contracts for animal control service to all municipalities, but there are several municipalities that opt not to participate.

Three or four communities in Logan County are not under contract at this time, Luster said. While they are not paying for service, there are times when animal control is called to go out to pick up their problem dogs.

Luster said that the process of sending animal control out on a call to a non-contracted entity (community) would involve getting the approval of a representative of the municipality, who would be someone such as their police officer. The municipality would then be charged the $200 fee. It would be up to the municipality to charge that fee to the dog's owner.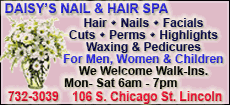 Initially, the board was favorable and indicated by straw vote that they would be approving the fee at Tuesday's adjourned session.
However, additional discussion evolved after Sheriff Steve Nichols commented and asked for clarification.
The sheriff explained to the board about some past experiences. He said that sometimes the sheriff's department was the first or the only agency responding to a scene where it was determined that animal control was needed. He said that often the first question has been, "Well, who's going to pay for it?"
He said his response was: "I'm not worried about that. The county is involved now. I want that dog picked up, and we'll worry about that later." He explained that he would not be able to walk away from a dog that was a detriment to the people of that city.
Finance chairman Chuck Ruben agreed, saying, "This would create a liability for the county."
The sheriff requested that it be set up so that any request to have animal control come out would not have to go through several steps. Currently, the deputies are contacting him, and he acts as the intermediary calling animal control. If a person from the municipality had to give approval also, this would further hamper an expedient response.
Several board members joined the discussion about how to bill the municipality and when the new fee would need to be paid. It was considered whether the $200 fee would need to be paid before the dog would be released. If this was the case, then could it be permitted that either the municipality or the dog owner could pay it to animal control? Or could the municipality be billed and left to collect the debt from the pet owner, yet the pet owner still pick up the dog before it was paid?
The owner of the animal would still be obligated to pay boarding costs and any additional fees that might be incurred, such as if microchipping or vaccinations were needed before getting the dog back.
Vice chairman Pat O'Neill agreed that any delay in the release of a dog would be a detrimental factor. Just the room and feeding can become costly if an animal is kept for very long, he observed. Everyone agreed that the less time an animal was held, the better it would be for everyone.
Ruben recognized that a fee would help cover the costs of going out to pick up an animal. This might even be better for some communities than paying an annual contract. He suggested that Luster take it back to the committee to work out more of the details.
At the city of Lincoln
A few months ago the city of Lincoln discussed some of the issues the facility has had to deal with. Lincoln does contract for animal control service with the county, and the majority of animals going there are from Lincoln.
At the end of October, the city's sanitation and ordinance committees met to discuss issues that concerned dogs running at large.
At the end of 2006, the county approved a graduated scale of fines, fees and actions intended to deter repeat offenders. Time was showing that the new regulations that stiffened penalties for dogs repeatedly caught running at large were not having the intended outcome.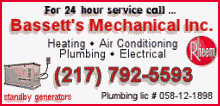 Dogs get microchipped the first time they are brought in. The fine or fee was to be increased every time the same dog would be brought in over a year's time.
Additionally, the second time a dog is brought in, it must be spayed or neutered before it can be returned to the owner.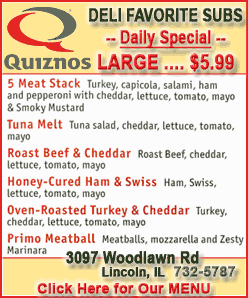 Tracking animal's history difficult
Lincoln sanitation chairman Dean Henrichsmeyer observed that the fee that the pet owner pays when retrieving a dog for a first offense is pretty minuscule at $10. The second time it is $20, and each pickup in any one year has compounded cost. To keep costs from becoming too great, every animal's slate is wiped clean each year and the fee structure starts back at $10.
However, Henrichsmeyer said that people who haven't wanted to pay the graduated costs have made it difficult for the facility to track how many times an animal is actually going back to the same owner, and they have lots of repeat offenders.
The number of dogs caught running at large has not decreased, and the paperwork for the facility has increased, so they were looking for suggestions.
Spaying animals of second-time offenders
The newer regulations require that a dog be spayed or neutered after the second offense. For some owners this creates a different issue than expense. Warden Julie Parker said that some people have had plans to breed their purebred, and while she couldn't say for certain, it seemed for some that it was about making money by selling pups. They've seen this with a number of pit bulls. She said that the facility has had two break-ins where a dog has been stolen just after the owners came in and were upset when told that their animal would need to be fixed before they could get it back.
The economic times have also played a part in challenges the facility is facing. Parker reported seeing the start of a trend last fall that broke her heart to see. Families began bringing in their pets because they either couldn't afford vet care or they lost their homes and were moving to a rental place where pets weren't allowed. She said these were not nonchalant repeat violators, but caring people who were having to choose a place to live for their kids, "not your cat."
In November, outgoing county animal control chairman Vickie Hasprey observed, "Out of all that we've gone through this last couple, three years, thanks to the Humane Society, Pets Without Parents and a couple of volunteers that have been taking quite a few animals every month up north to a no-kill shelter, which helps us out a lot."
Luster said this month that the committee was especially appreciative of two volunteers, Kelly Cale and Cherrie Preston. The two have worked hard to help pets find homes or assisted by transferring animals that don't get homes to no-kill shelters.
Officials at both the city and the county recognize that the attempt to legislate responsibility is difficult. But they keep going back to the drawing board to try to find the best solutions.
[By JAN YOUNGQUIST]
Other related information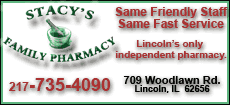 Illinois laws that were passed in 2006:
House Bill 2946 -- Prohibits certain felons from possessing a dog that is not spayed or neutered.

House Bill 4238 -- Eliminates a limitation on fines in excess of $50 for dogs running at large and provides that if the owner of a dog knowingly allows it to run at large and the dog inflicts serious physical injury or death to a person, the owner is guilty of a Class 3 felony.
Illinois law amended in June 2008:
In an effort to protect our families and communities, the governor signed House Bill 822, which amends the definition of a "potentially dangerous dog" in the Animal Control Act and the Animal Welfare Act. The new definition provides that a "potentially dangerous dog" is one found unsupervised and running with three or more dogs. This also provides that the animal shall be sterilized and microchipped within 14 days of a licensed veterinarian declaring the animal is healthy enough to undergo the sterilization. The "potentially dangerous animal" designation shall expire after 12 months.
___
Past related articles