Hundman Lumber and Dana Bell, the YMCA, Humane Society, United Cerebral Palsy, and Wood Chopper's Ball in Close Up
By Mike Fak
[January 20, 2009] Dana Bell, Atlanta, was recently named 2008 Employee of the Year for Hundman Lumber Do-it Center, 910 Woodlawn Road, Lincoln. Bell received the honor for her outstanding service as Office Manager at the Do-it Center. She was honored at the store's holiday party on January 10 in Lincoln.
At the event, awards were also presented to Hundman employees in appreciation for their years of service with the company. A 40-year award was presented to Spud Newhouse, Store Manager, and a 10-year service award was presented to Dana Bell, Office Manager.

The Lincoln store is one of seven Hundman Lumber locations in Central Illinois. Other locations are in Bloomington, Champaign, Decatur, Fairbury, Peoria and Springfield. All serve do-it-yourself customers as well as contractors.
---

The YMCA is holding its 3rd Annual Shotgun Raffle to raise funds for the YMCA Youth Archery Program. This year we will be raffling a Remington Spartan 12 gauge over & under. Volunteers will be selling tickets for $5 each. You may also purchase tickets at the YMCA Office or Duvall Automotive (729 N. Chicago). Your ticket purchase helps support future sportsmen (and women) of Logan County.
---

A general membership meeting of Humane Society of Logan County will be held on Wednesday, January 21, 2009. Come and meet the board of directors and others committed to the welfare of homeless animals in Logan County. Elections for the board will be held. The accomplishments of 2008 that have furthered the HSLC mission will be presented. Everyone interested in the welfare of homeless animals in Logan County is invited to attend. The event will be held at Chad's Blind 1230 Fifth Street starting with a social hour at 6 pm and the meeting at 7 pm.
---

United Cerebral Palsy Land of Lincoln will host their annual Telethon on Sunday, January 25th, 2009, on WICS-TV from 11:00 A.M. until 5:00 P.M. live from the Crowne Plaza Hotel in Springfield. Over 300 local volunteers will staff the phone banks in Bloomington, Beardstown, Champaign, Morrisonville, Pleasant Plains, Carlinville, Pawnee, Lincoln, Taylorville, Jacksonville, Virden, Decatur, Mt. Zion and Springfield, raising money to support UCP's programs and services.
The UCP Land of Lincoln Telethon started in 1954 on WICS. Paul Wappel and Jill Egizii will again host the six-hour UCP Telethon on WICS-TV starting at 11:00 A.M and ending at 5:00 P.M. Special guest hosts include: WICS news anchors Jerry Lambert and Julie Staley; WFMB morning talk show hosts John & Michelle; and Sports Radio 1450 commentator Sam Madonia.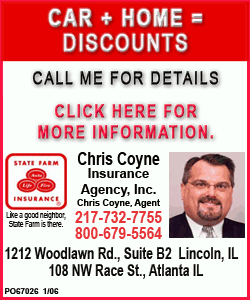 The Telethon is UCP's largest single fundraising event. Last year over $315,000 was raised to help UCP provide programs and services to over 1,000 children and adults with various disabilities, in 27 counties in Central Illinois. Services include therapies, job training and placement, assistive technology, summer camps, residential support, day services, respite, case management, and advocacy.
Individuals wishing to make a pledge or to volunteer may do so by calling UCP at 217.525.6522.
---

The 2nd "Not Annual" Wood Choppers Ball will be held on January 24, 2009. All workers are asked to meet at the Elkhart Village Hall at 9 am for this event, bringing with them their own tools and safety equipment. Lunch will be provided. Please call 217-947-2238 if you plan on attending, so they can have an approximate number for lunch. Following the end of the event a pulled pork dinner will be held at the Elkhart Center starting at 5:30 pm. All attending are asked to bring a dish to share and table service. Drinks will be provided. Also, area musicians are invited to bring their instruments as the day will wrap up with an old fashioned jam session starting at 6:30. Dinner for the workers is free, and the public is invited at the cost of a donation.
---
Got a good piece of news, information or something that we can all brag about? If you do e-mail Mike and let us tell everyone about it. Plus you can win cash. Every submission, whether we use it or not, will get your name in the "Close Up" grab bag. At the end of the month we will draw a name and someone will get $25.00 just for dropping us an e-mail. If you wish, we will be happy to donate your winnings to the organization of your choice.
You can contact Mike at mikefak@lincolndailynews.com.
[By MIKE FAK]