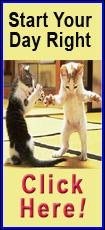 The U.S. Centers for Disease Control and Prevention said Tuesday the number has been inching up as lab tests confirm that new cases have the same genetic fingerprint as the outbreak strain. The illnesses have been reported in 43 states and Canada, and may have contributed to the deaths of six people.
The Food and Drug Administration has traced the outbreak to a Georgia plant owned by Peanut Corp. of America, which makes peanut butter and peanut paste.
The government says consumers should avoid cookies, cakes and other foods containing peanut butter pending the results of the investigation. Peanut butter sold in jars to consumers is not included.