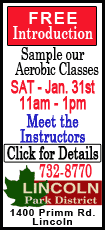 Lincoln historians Ron Keller and Paul Beaver will provide background information on the artist and historical facts that are shown in the painting.
Artist Jennifer Boeke of Morning Glory Art, which provides Christian art for use by nonprofit ministries, was commissioned by Main Street Lincoln to create a unique 58-by-60-inch painting of Abraham Lincoln, who is speaking to a crowd the day after his debate with Stephen Douglas. Boeke is well-known for designing and painting background sets at the annual Christmas in the Chapel performances at Lincoln Christian College.
The painting will be the focal point of the Lincoln and Logan County display area in the Lincoln Heritage Museum when it moves to its new location in the Lincoln Center in 2010.
The "Civil War Muster Roll of the IL 106th Infantry" roster is being provided by Lincoln residents Joseph G. and Sudie M. Givan Mintjal. The roster has nearly 30 names of Logan County family members who served in the Civil War.
A reception will immediately follow the program on Thursday. Prints of the painting will be available for purchase. Twenty-five limited edition Giclee prints, priced at $400 each, will be available to purchase as well as 2,000 prints that will also be available for purchase.
For more information on the prints, contact Wanda Lee Rohlfs at Main Street Lincoln.
The event is being endorsed by the Illinois Abraham Lincoln Bicentennial Commission.
[Text from file received from Lincoln College]