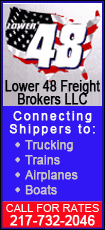 Born in Decatur to Fred and Audrey Hamberg, Shirley had an opportunity to attend several of the now-gone one-room schoolhouses that were in our area. They included Bluegrass, Deercreek, Lakeview and Lawndale.

As a graduate of Beason High School, Shirley began working for Avery & Comstock as their accountant. That work lead to her creating a career and a business helping other area businesses and individuals with their bookwork. At first, with three small children -- Frank Jr., Tami and Tanya -- she couldn't afford a baby sitter, so she operated out of the basement in the home she shared with her husband, Jack. As her business grew and the children became older, she opened a storefront and operated an accounting firm for 38 years in Lincoln.

Shirley has always been active in the community. She is a member of the National Accountants Association, was a 25-year member of Zonta, is treasurer of the Lincoln Emblem Club and the tourism board, and serves on the Route 66 Heritage Foundation board as well.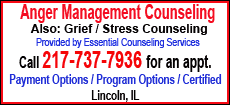 She has been active for decades in the Lincoln/Logan Chamber of Commerce and has been a chamber ambassador since day one of that group being formed. Shirley also holds the distinction of being the first woman director placed on the chamber board.
Perhaps it was chance, but right after Shirley sold her business and then had a little more free time, she was asked to attend a meeting regarding the fate of the Postville Courthouse State Historic Site. Bob Coomer, Illinois Historic Preservation director, met with 15 local citizens in 1999 to explain that state funding under then-Gov. George Ryan would no longer be available to keep the facility open.
Shirley had not been active in historic preservation but felt that the site should stay open.
It was through this meeting that Shirley became chairman of a group of volunteers to man the facility, with the state's only help being in paying the utilities.
Shirley was quick to state, and said again several times during the interview, that the 40 volunteers who help man the site should receive all the credit. But it was, and is, Shirley's organizational skills and desire to make sure the facility is manned and open as promised that brings us back to giving her measurable credit for keeping the site from closing.
Noted Lincoln historian Paul Beaver doesn't feel any need to hedge on his words. "Shirley Bartelmay saved Postville Courthouse," he said. "It's as simple as that."
Tourism director Geoff Ladd said that Shirley and her volunteers saved the site again just recently by having an organized and reliable volunteer group in place. "Shirley is the reason that we were fortunate in keeping Postville Courthouse open when the governor announced several historic site closings earlier this year," said Ladd. "I am grateful to her, and our community should be as well!"
As Bartelmay talks, her enthusiasm for Postville is catching. "If we lost the courthouse, I believe it would have a big impact on our community," she says. "It's a chance for people to enjoy the history, but not just people from here. We had visitors from 25 foreign countries last year visit us." Shirley says that the foreign visitors, even if their English isn't that good, are enthused about Lincoln, and when they visit they want to see and hear everything.
She's also seen that the historic Route 66 revival has helped Postville. She says that many of those coming in are driving the historic route.
When Shirley isn't stressing how important the volunteers are to the historic site, she spends time giving accolades to the city and county, as well as the tourism bureau, for their help in keeping the site attractive and presentable.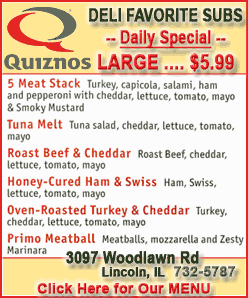 There have been many important additions to the grounds since local control was turned over by the state. The split rails at the corners of the grounds were donated by Rotary. There is an 1850s garden out front that was done by the Lincoln chapter of Master Gardeners.
"Besides being beautiful, those plants actually have a medicinal value. Back then there were no drugstores and people used plants as medicine," Shirley explained. It is obvious as she talks about the garden that she knows every one of the plants and what it was used for.
She also knows as much about Postville as many a local historian. And she is the trainer for new volunteers to make sure when visitors come that they receive the full knowledge of what the site offers.
In their long-term plan the volunteers intend to replace old or damaged trees with trees that would have been on the grounds in the 1850s, thus adding to the realism of the courthouse grounds.
The best example of Shirley's love and enthusiasm for Postville is perhaps the story of the rocking chair that is now prominently displayed on the first floor. It was owned by Illinois state Sen. Maldon Jones, who was good friends with Lincoln. Often, Lincoln would stay at Jones' home, and Abe enjoyed the oversized rocker that made allowance for his long legs.
For two years, Shirley and the great-great-grandson of the senator were in communication about Postville obtaining the rocker. "But I had to explain to him that we had no funds and couldn't pay for it," she said. "Then one day he called and said they had moved to Missouri, had no room for the chair and no one in the family asked for it. He said we could have it if we wanted it. So Jack and I got in the truck and went and got it, and now it's ours forever."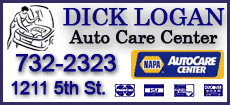 Although Shirley's office on Kickapoo Street has a volunteer calendar that shows who works what day for the next several months, it is obvious from the conversation that when someone can't keep their date, which is often, Shirley fills the void. She also handles many of the groups that come to see Postville and mentioned that this week a group from Peoria and another from Indiana were coming to visit.
Shirley explained the philosophy of the volunteer group clearly. "We need to have a positive attitude with visitors. We tell the story of Postville and stay away from state issues. That (the state's problems) isn't what we are there for. Our compensation is the satisfaction of giving a good tour and people leaving feeling happy that they stopped."
Shirley Bartelmay and volunteers have now saved Postville Courthouse -- twice.
As some compensation for all their time and labor, LDN names Shirley Bartelmay and all those who help keep Postville Courthouse open as our Personalities of the Week.
[By MIKE FAK]