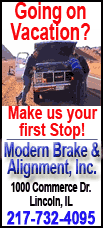 This community that I proudly call home holds dear to its heart our history with Abraham Lincoln and our love for the Mother Road.

In our annual art and balloon fest, we have produced an annual festival that has outlived many, many festivals in other areas.

But these things in all their wonder do not overshadow the experience of the Logan County Fair.

Spending this past week at the fair, it was easy to see the great sense of family that lives in this community as I watched sons and daughters stand beside their mothers and fathers preparing their animals for show.

I witnessed a teenage boy -- yes, a teenage boy -- showing affection to his little sister: something that would be unthinkable for many boys in private, let alone in public.
I've seen proud grandparents flitting around show arenas snapping pictures of their grandkids, and I've watched friends trade belts because one was broken, and basically what one girl had, she was more than willing to share with someone else.
And I've seen love and respect for those who are gone but who helped to make this fair what it is today.
On Friday at the open swine show, the audience and competitors observed a moment of silence for friends of the fair who had left this world in the last year. The silence spoke volumes about not only who those people were, but also about who we are.
Last fall, Terry Steinhour lost his life in a farming accident. It was a great loss for both Logan and Menard counties.
Steinhour was a Farm Bureau director in Menard County, served on the Rural Water Commission of Menard County and on the Middletown school board in Logan County for several years. He was beef superintendent at the Logan County Fair as well as an exhibitor.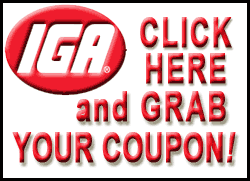 In addition Steinhour was president of the Middletown Bi-Centennial Commission, president of Menard County Tourism Council, a member of the Logan County Tourism Council and a member of Greenview Christian Church.
Soon after Steinhour's death, Geoff Ladd of the Abraham Lincoln Tourism Bureau of Logan County wrote in an article published in Lincoln Daily News these words about Steinhour:
"What Terry always brought to the table was intelligence, common sense and a great sense of humor. He had a passion for tourism. He was a driving force behind the Stagecoach Inn restoration project in Middletown and the obtaining of the subsequent Looking for Lincoln wayside exhibit that was dedicated for the site on July 4, 2009."
Saturday morning at the open beef show, a plaque was presented to the Steinhour family by the Logan County Fair. It read: "In grateful appreciation to Terry Steinhour for many years of dedicated service as an exhibitor, beef superintendent and a good friend of the Logan County Fair." The plaque was accepted on behalf of the family by Larry Hill.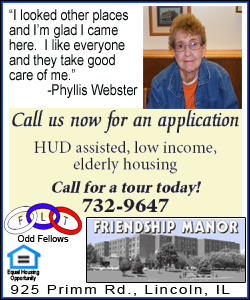 Although I am sorry to say I didn't know Steinhour personally, the research I have done tells me that he would not want to be the only one mentioned in this article, when there are so many to whom the Logan County Fair was important who have gone before him.
Each year during the 4-H exhibits there are several awards that are sponsored "in memory of." These awards generally are given out in an exhibit category that had a special meaning to the life lost.
It seems only fitting that as Lincoln Daily News works to put together a tribute to this year's fair, these people should be remembered in that tribute:
Justin Burge -- top junior visual arts exhibit

Ross Conrady -- champion purebred barrow; champion purebred gilt; outstanding junior swine exhibitor; outstanding senior swine exhibitor

Don Crane -- grand champion barrow; grand champion gilt

Martin Dahmm -- top junior woodworking exhibit

Leola Donnan -- champion prior-year scramble goat

Belle Drake -- best heritage arts

Joe Gleason Sr. -- top junior fruit-vegetable exhibit

Rudy Lolling -- champion horse; horse halter showmanship, junior; horse horsemanship/equitation, junior; miniature horse

Alfred Maxheimer -- pony, Western pleasure; yearling horse

Maxine Maxheimer -- champion chicken; Sewing & Textiles I construction

Chris McGlasson -- reserve champion AOB gilt

Annie McLaughlin -- Cake Classic

Troy Miller -- outstanding beef exhibitor

Troy Powell -- champion shorthorn steer

Carl Schwantz -- champion junior beef carcass

David Steffens -- calf scramble champion

Randy Westen -- grand champion steer

Donald Wilson -- champion Duroc gilt; reserve champion spot gilt

Ruth Ellen Wurth -- best non-original ceramics
(Special thanks to Patty Huffer and Amy Hyde of the Logan County Extension office for providing this list.)
[By NILA SMITH]
Click here to respond to the editor about this article.