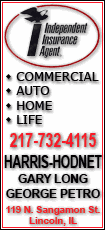 At the Monday night council meeting Mayor Keith Snyder said that regardless of all else, this was a very good night as Alderwoman Marty Neitzel announced that she has received a clean bill of health. Amidst loud applause, Neitzel announced that "it won't be long, I'll be leaving my hat at home!"

After much discussion and contributions from members of the audience who wished to express their opinions, the city council in the end vetoed a resolution that would approve street work on Fifth Street excluding the placement of a traffic light at the corner of Fifth and College.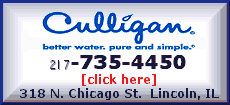 In the second step, though, a vote to rescind the first vote and make a new resolution that would allow for the stoplight, the council could not achieve a two-thirds majority vote.
Consequently, the issue is still unresolved.
As Snyder called the meeting to order for the evening, he noted that there were several people who had come in to speak about the traffic light.
He called those speakers up one by one prior to beginning the normal order of business.
First to speak was county board member Pat O'Neill. O'Neil indicated that as a resident of Lincoln, he was speaking on behalf of approximately 37 people who had contacted him asking that he support the implementation of a traffic light.
O'Neill noted that those he had spoken to had valid concerns regarding safety of community children at that particular intersection.
Bruce Huskins spoke next, saying that he was representing the people who live south of Fifth Street. Huskins came armed with several statistics from the Illinois Department of Transportation.
Huskins noted that there were 175 to 208 cars per hour traveling down Fifth Street. He also noted that there are approximately 87 to 150 cars per hour traveling on College.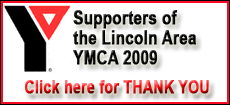 He summarized that Fifth is actually busier than Woodlawn, and College Street is the busiest street connecting the two.
He asked that the council vote yes for the light, saying that it was the best answer to a traffic problem on Fifth Street.
Michelle Vermeire, on the other hand, had a different opinion. The Vermeires live on College Street. She said that she, her husband and the other drivers in her family are all opposed to the light.
Vermeire said that looking at Woodlawn, she felt there were way too many lights on that artery and that there were people who chose to take Fifth Street because there were no lights.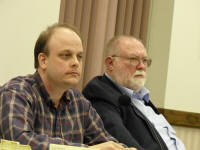 Aldermen David Wilmert and Dave Armbrust listen to the pros and cons of a traffic signal.
She also noted that her daughter has learned to take a different route to school in the morning, and others do so as well.
Jackie Camel, the owner of Camel's Hair'em, said that she is really concerned about what the light will do to the parking at her business.
She said that as one who is there every day, she sees possibly three times in a day that traffic is heavy.
She noted that the traffic may not be as bad as it is now once the new hospital opens.
Greg Coughlin lives across from Camel's Hair'em. He said he hasn't seen the traffic change significantly over the past years and doesn't really know that it will get worse, as some have implied.
He spoke regarding the safety of children at the crossing and said that indeed he had seen some, especially young boys, who dared to cross when they could have or should have waited.
He also commented on a letter to the editor in the Lincoln Courier from former city Alderman Verl Prather, who implied it would be on the council's shoulders if anyone were to be hurt or killed at that intersection, saying that was "kind of extreme."
Coughlin also said there could be another argument that, especially early on, there will be those who forget the light is there and keep going, which could be just as dangerous.
He also noted that the money could be spent on some other, more serious road issues.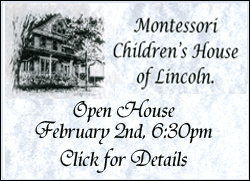 Vermeire came back to the podium to talk about kids. She said that at the school on College, there are kids who also take chances crossing the roads.
"As you vote, if you're taking kids into consideration, they're going to cross anyway. Kids will be kids," she concluded.
Camel, Huskins and O'Neill all spoke a second time also, each reinforcing their own opinions with additional bits of information.
When it was time to hear the resolution, it was read aloud by Denise Martinek, city clerk, and specified that the city would reject the proposed stoplight.
Alderman David Wilmert made the motion to approve the resolution, with Alderwoman Kathy Horn offering the second.
Alderwoman Melody Anderson was the first to speak during the open discussion, saying that she had conducted her own survey of Lincoln residents. She said she had heard from 43 who were in favor of the light and 79 who were against it.
Anderson said she had also heard some very good suggestions and offered one she had received from Gary Davis. Davis had suggested that the city contact the University of Illinois and Illinois State to invite their engineering student interns to study Lincoln's infrastructure and offer suggestions on where the city did and did not need traffic signals.
Anderson thought that this was a good idea, because in her opinion, lights have been placed around about town that perhaps were not well thought out.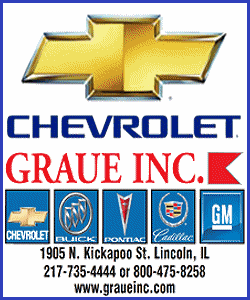 In addition, she also expressed a concern for the money that would be needed to install the light. The city's portion will be approximately $20,000 and would come from motor fuel tax revenues.
"Regardless of where we take those funds from, whether it is motor fuel tax or the general fund, that money is going to have to be taken away from some other project. There are no new revenues coming into the city this year," Anderson concluded.
Wilmert said he had heard and was convinced that Fifth Street is busy, he understands the inconveniences, but that does not justify doing what the majority does not want done.
Horn said she has been a resident along Fifth Street and raised kids there. She had raised boys who thought they were invincible and could cross the street wherever they wanted.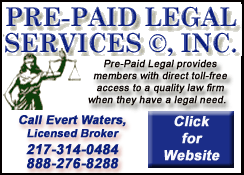 "You can't say children are going to get hit there because we don't have a light," Horn said.
She continued that while she had been out of town part of last week, she had still received 30 calls, and of those 27 said they did not want a light.
Neitzel, on the other hand, said that all the calls she had received were in favor of the light.
Alderman Buzz Busby said he hadn't received that many calls, but he is very concerned about what is going to happen in the future. Busby believes there is a chance that within the next couple of years the Illinois Department of Transportation will mandate a light at that intersection, and the city will be left holding the full bill instead of just $20,000.
Alderman David Armbrust said he got no calls but was reminded that the city did have issues when a light went in on the city's far west end at the intersection that is now Thorntons and Beck's. He indicated that he will be voting for the light.
Alderman Jeff Hoinacki began his commentary by likening this issue to the racetrack and bringing chuckles from his fellow alderman. Moving on, he said he hadn't gotten many calls either, but he did discuss the issue with people at his place of employment.
Hoinacki is in favor of the light and added that it would also include crosswalk signals.
Wilmert was the last to speak before the vote. "I want to remind the alderman that this is not about the traffic," he said. "We know there is a lot of traffic. We know that Fifth Street could use a stoplight, but we don't know that it has to be right now, right here at that particular intersection."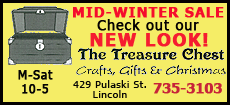 He went on to say that he didn't buy the theory that the city would be mandated into putting a light at that particular spot. He asked that the aldermen consider the future and look at the big picture.
When it came time to vote, the motion was denied with a 5-3 vote.
For this vote, a "no" indicated that the alderman was not willing to pass a resolution that excluded the stoplight. Those who voted no were Busby, Hoinacki, Neitzel, Armbrust and Alderwoman Stacy Bacon.
Those who voted "yes" were opposing the light. The three yes votes came from Anderson, Horn and Wilmert
Bacon had over the previous weeks expressed that she was not in favor of a light at that particular intersection. On Monday evening she offered no comments during discussion.
For a brief moment, those who want a stoplight may have felt a sense of victory, but it was short-lived.
As Snyder moved on to the next agenda item, it was a resolution to approve all the work proposed by IDOT. This resolution was voted down two weeks ago.
The mayor said that the procedure had to be first a vote to rescind the vote of two weeks ago. Once that is passed, then a new vote could be taken on the same motion.
To rescind a vote requires a two-thirds majority, or seven of the total of 10 aldermen. With Alderwoman Joni Tibbs and Alderman Nathan Turner absent, there were only eight members present. With three obviously opposed to rescinding the vote, it failed 5-3.
The result is that another vote will have to be taken at a later date, hopefully with all 10 members present.
It should be noted that Turner's absence has been health-related, and Tibbs is on a planned leave that started before this issue actually came up.
[By NILA SMITH]