Information needed on April and May incidents
Window damage at Holy Family, fire at 214 Willard, thefts at Community Action and Immanuel Lutheran

Send a link to a friend
[June 03, 2010] Lincoln/Logan County Crime Stoppers released the following reports June 3 with a need for further information:
On April 24, Lincoln police were dispatched to Holy Family Church, 316 S. College St., in reference to a report of criminal damage to property. An unknown suspect or suspects threw a rock through one of the stained-glass windows on the side of the church.

On April 27 at approximately 2:49 a.m., Lincoln police and fire departments were dispatched to 214 Willard Ave. in reference to a residence on fire. The residence was unoccupied at the time, and there was no electrical or gas service to the building. The fire is suspected by Lincoln fire inspectors to have been set intentionally. A suspect seen fleeing the area was described as a white male, approximately 5-foot to 5-foot-3 in height, wearing all-black clothing.

Between 5 p.m. on April 30 and 12:30 p.m. on May 1, unknown suspects forcibly entered a window at the Community Action Partnership of Central Illinois, 1800 Fifth St. in Lincoln, and therein stole several computers and hand-held radios from the interior of the building. Suspects possibly used a vehicle and exited at Fifth Street Road.

Sometime May 23-24, an unknown person or people entered Immanuel Lutheran Church, 1409 Pulaski St., and took a television and DVD player from the church.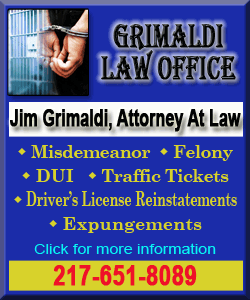 Anyone with any information concerning any crime in the Lincoln and Logan County area is urged to call Crime Stoppers at 217-732-3000 or submit an e-mail to Crime Stoppers.
Your information will be kept confidential and you may remain anonymous. If your information leads to the arrest of the person or people involved, Crime Stoppers will pay you a cash reward up to $1,000.
Crime Stoppers has an answering machine to answer your calls. This is to protect you if you wish to remain anonymous. Your calls cannot be traced with this machine. You need to let Crime Stoppers know how you can be contacted about the incident, or you must watch to see if the subject has been arrested. This is so Crime Stoppers can make a payout to you.
[Text from file received from Lincoln Police Department]