On Sunday, June 20, at 10:18 a.m., Lincoln police were dispatched to investigate a burglary at 523 Woodlawn Road. The suspect or suspects entered the Pet Connection business by forcing the rear door of the business, took a cash register and broke several fish tanks, killing all of the fish.

On Monday, June 21, at 6:33 a.m., Lincoln police were dispatched to investigate a burglary at 103 S. Logan St. The suspect or suspects entered Bex Automotive by breaking a window. A laptop computer was taken and two vehicles from the lot. One vehicle was found at the intersection of 700th Avenue and 1400th Street and the other in the 1200 block of 1900th Street in rural Lincoln. Both vehicles were burned.

Anyone with any information concerning these or any other crimes in the Lincoln and Logan County area is urged to call Crime Stoppers at 217-732-3000 or the Lincoln Police Department at 217-732-2151.

Your information will be kept confidential and you may remain anonymous. If your information leads to the arrest of the person or people involved, Crime Stoppers will pay you a cash reward up to $1,000.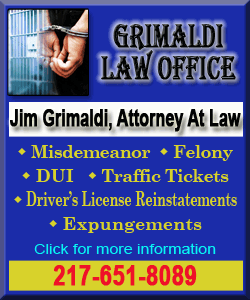 Crime Stoppers has an answering machine to answer your calls. This is to protect you if you wish to remain anonymous. Your calls cannot be traced with this machine. You need to let Crime Stoppers know how you can be contacted about the incident, or you must watch to see if the subject has been arrested. This is so Crime Stoppers can make a payout to you.
[Text from file received from Lincoln Police Department]