Mannafest, Humane Society, football team and cheerleaders, and American Legion Auxiliary make Close Up
By Mike Fak
[September 14, 2010] Mannafest: Harvest of the Bands is a fundraiser through Harvest of Talents at Lincoln Christian Church.
This event is a 10-hour concert featuring Christian rock, metal and alternative bands from all over the Midwest. All proceeds from the event go to International Disaster Emergency Service for the purpose of hunger relief. All bands are donating their time and talent so that every penny from ticket and concession sales can go to IDES.

Mannafest is on Saturday, Sept. 25, from 1 to 11 p.m. at Lincoln Christian Church, 204 N. McLean St.

Bands scheduled to perform are the Lee Roessler Band; Look Up; Sacred Eternal; Black Tea Shirts; Without Cause; Oh Hope, Come; Turtleheads; Altar Addicts; White Linen; and Sunday Morning Riot, the Lincoln Christian Church worship band.

Tickets are available at the Berean Bookstore in Bloomington and at these Lincoln businesses: Clothing Zone, New Beginnings, CCA: Computer Consulting Associates, and Camel's Hair'em,

Ticket cost: $5.

Food and drinks will be available for purchase, with 100 percent of sales also going to IDES.

For additional information, contact:
---

Humane Society of Logan County is having a bake sale at Kroger's main entrance on Saturday, Sept. 18, from 9 a.m. until 1 p.m. The sale will offer pies, cakes, cookies and other sweet treats.
---

Lincoln Community High School football players and football cheerleaders spent a Saturday afternoon and evening doing more than lamenting the Friday night opening-game loss to Rochester. Thirty-five student athletes volunteered at the balloon fest, working in programs and admissions. This is the third year that the students have volunteered their services at one of Logan County's most attended fall festivals. Coaches Jared Shaner and Michelle Ryan encourage students to volunteer to help instill a social responsibility and to show them that life extends outside of the end zones.
---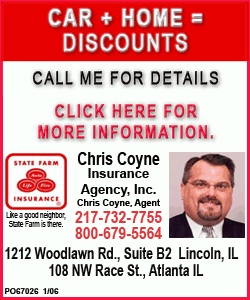 The Logan County Council of American Legion Auxiliary will meet Thursday, Sept. 30, at the Emden Community House. A potluck dinner at 6:30 p.m. will precede the meeting. The Emden Unit will provide the meat, table service and drinks. Please bring a dish to share.
Tecia Hennessey of Lincoln, 17th District president, will be the guest. Units, please remember to bring a short report of what your unit members have been doing since we last met.
---

Got a good piece of news, information or something that we can all brag about? If you do, e-mail Mike and let us tell everyone about it. Plus you can win cash. Every submission, whether we use it or not, will get your name in the Close Up grab bag. At the end of the month we will draw a name and someone will get $25 just for dropping us an e-mail. If you wish, we will be happy to donate your winnings to the organization of your choice.
You can contact Mike at mikefak@lincolndailynews.com.
[MIKE FAK]