Logan County E-NEWS
Friday, April 29, 2011 Issue# 4-11
Logan County Farm Service Agency Phone: (217) 735-5508 Ext. 2
1650 5th St Fax : (217) 732-9916
Lincoln, IL 62656 Hours: M-F, 8:00 am to 4:30 PM
____________________________________________________________
News & Information
Our goal is to provide as much information to our farmers, ranchers, landowners, agribusinesses, non-farm orientated citizens, students, and future email subscribers in the quickest, cheapest, and most efficient way. Issuing press releases and regular newsletters fulfill our minimal requirements in publicizing information, but as we have learned over the years, it's not enough. The Logan County E-News will be published periodically and used solely to compliment the other avenues of our information dissemination needs. Subscription is free and the advice is still cheap. We do not discriminate. If you know someone that wants to subscribe, share this E-News with them. If you know someone is not getting their E-News, they should contact our office or check with their Internet Service Provider (ISP) or Email provider and flag the Logan County E-News as "non-spam" or "acceptable". Every time we issue E-News publications, we receive several returned messages due to the security filters your ISP uses.
_________________________________________________________________________________________
JUNE 1st is the deadline to sign up for the DCP/ACRE Program
*All 509 DCP/ACRE contracts must have all required signatures by June 1st*
Failed/Prevent Plant Acreage Procedure
Hopefully the weather will begin to cooperate and we will not have to be concerned about reporting failed or prevented plant acreage to your local FSA office, BUT just in case here is how to correctly and timely file a prevent plant/failed acreage report. Credit will only be approved due to a natural disaster and not due to a management decision.
Prevent Plant Acreage
Report Prevent Plant Acreage to your local FSA office on a

CCC-576 Notice of Loss Form

(PDF Format)

by June 20th for corn
by July 6th for soybeans

The County Committee may request documentation to show there was intent to plant the acreage by providing documentation of field preparation measures, seed purchases, fertilizer invoices, pre-pay seed bills or chemical bills.
Failed Acreage
CCC-576 Notice of Loss Form (PDF Format)
*Exception: For insured crops, acreage must have been reported as failed acreage before the final crop reporting date (July 15) and the producer must provide the County Office crop insurance data.
ACRE participants will be directly affected by Prevent Plant/Failed Acreage credits. *Always contact your local FSA office before you dispose of a failed/prevent plant crop to insure you obtain credit.*
Crop Certification
All crops are required to be certified by July 15th. Filing an accurate and timely acreage report for all crops and land uses, including failed acreage, can prevent loss of benefits for farm programs (MALís, DCP, ACRE, CRP, SURE).
v CRP participants must annually certify CRP acreage has been maintained
A few things to remember when you certify:
- Know your planting dates. These dates are required for certification.
- Notify us of any acreage discrepancies to keep you compliant with our programs. Accurate acreage reporting is especially important for ACRE participants.
- Please allow adequate time for your office visit. We will be utilizing a brand new Crop Acreage Reporting System this year.
ACRE-658 Production Deadline
All ACRE 658 Production Certification forms must be filed in the office by July 15th. If you have any questions regarding correctly completing these forms please contact the office.
New Baby!
Blane and Kristi Olson (Logan County FSA employee) are proud parents of their new son Kelten Ray Olson. Kelten was born on March 28th and weighed 7 lbs 10.5 oz. Kelten was welcomed home by big brother Braden and everyone is doing just fine!
Q: What is it?
Can you name this purple plant which has been spotted across corn and soybean fields?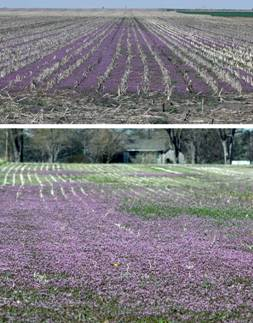 E-News!!!! Get relevant FSA information delivered to your computer or Smart Phone: Forward this on to other acquaintances so they may choose to join the distribution list. All you need to do to sign up is email me at John.Peters@il.usda.gov or stop in the office and fill out a brief E-News subscription form. ALL E-MAILS WILL BE KEPT CONFIDENTIAL
Please let me know of any ideas and suggestions you may have!

Respectfully,
John Peters