A memorial service for deceased members is planned in addition to installation of officers.

Deb Schweitzer is in charge of devotions and will also serve as a greeter, along with Judy Lumpp. Carol Schwantz is social chairwoman for the meeting.
---

2010 Miss Logan County Bethany Rea will host Cookies at the Castle on Saturday, May 21, from 10 to 11 a.m. at the Lincoln Woman's Club Building, 230 N. McLean St. All Logan County girls from birth to 11 are invited to come dressed as a princess to meet Queen Bethany and Little Miss Logan County Dani Phillips. All girls must be chaperoned by an adult. Princesses can decorate a crown cookie and have their pictures taken with the queen and little miss. There is no cost to attend.
---
Carroll Catholic students of the month
April
Cole Sheley, sixth grade; son of Brad and Angela Sheley, Lincoln
Sean Peyres, fourth grade; son of Brian and Amy Peyres, Lincoln
Kelsey Treuthart, third grade; daughter of Ray and Lisa Treuthart, Lincoln
Dylan Singleton, second grade; son of Richie and Leslie Singleton, Lincoln
May
Brayton Brown, fourth grade; son of Troy and Amy Brown, Lincoln
Andrew Graue, first grade; son of Eric and Traci Graue, Lincoln
Kristen Lahr, seventh grade; daughter of Laurie Lahr, Lincoln
Cody Adams, third grade; son of Paul and Kari Adams, Beason
---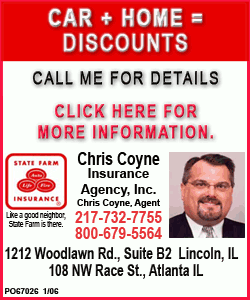 The Logan County Genealogical & Historical Society will have a public meeting Monday, May 16, at 6:30 p.m. at 114 N. Chicago St., downtown Lincoln. Lois Vannoy will give a presentation on Gold Springs Water. Nancy Vannoy will speak about the old hotel near Gold Springs. The public is welcome.
---
Lexie Groves, seventh-grader at Zion Lutheran School in Lincoln, was selected as the Zion Lutheran April Student of the Month.
Lexie's school activities include Bible Bowl, Math Bowl, Scholastic Bowl, Geography Bee, basketball, band, choir, choir chimes, school plays and student council, of which she is the 2011-2012 president.
Lexie is a member of the LifePointe Church of God. Her church and community activities include People to People in Washington, D.C., church programs, singing specials, BLAST youth group, Dynamite Basketball, community theater and Elks Hoop Shoot.
Lexie most enjoys playing basketball and spending time with friends.
Her parents are Perry and Carie Groves of Lincoln.
---