KCBS Barbecue Contests draw strong lineup of returning and new competitors
Send a link to a friend Share
[June 05, 2017] LINCOLN - On Saturday, June 3, 2017 32 teams competed in the seventh year of "Up in Smoke on the Square" held in downtown Lincoln. State Bank of Lincoln was the prime sponsor of the popular summertime event.

Saturday morning's events began with a blessing by John Means.

KCBS competitions

The Kansas City Barbeque Society (KCBS) participants prepared chicken, pork ribs, pork, and beef brisket. KCBS website rules state contestants must submit six portions of meat in an approved container, and the chicken, pork and brisket may be chopped, pulled, sliced, or diced; while ribs must be turned in bone-in.

Teams this year were from various parts of Illinois and a few from Missouri. Many of these teams travel throughout the Midwest to participate in competitions with the competition circuit lasting from April to September each year. But events take place all over the U.S. and some go into the winter months.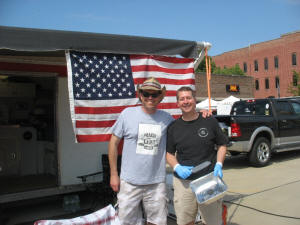 Joining the competition for the first time this year was JH Old School with Jason Lawrence and Hank Ritts of Roscoe, Illinois. They do around seven competitions each year around Illinois and Wisconsin and are top ten finishers 68 percent of the time.

The team enjoys competing because they are "longtime friends enjoying a hobby [and] hanging out." Using a hand built smoker and a trailer bought from the Jack Daniels' BBQ competition champion helps make it special.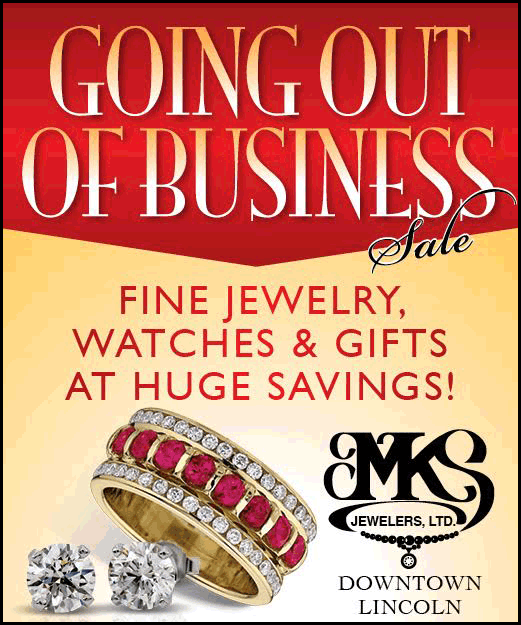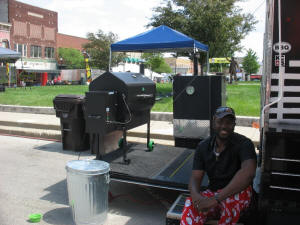 Another first time team was Chocolate City BBQ of Chicago with Elton Cummings, John Cardinal, and Tina Mathias. They have also competed in Indianapolis; Fondulac, Wisconsin; and Westmont, Illinois this year and received tenth place in chicken at Westmont.

The teammates spend a lot of time cooking as two are chefs and they also cater at weddings. Cummings said what makes their meats special is "using chocolate in our barbeque to give it a sweet flavor."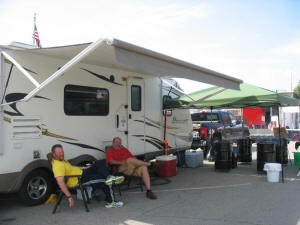 Also competing for the first time here was Rub Runners with Scott Saver and Todd Henry. They have competed in Peoria, Dwight, and Arthur, where they received first in chicken.

The team said, "We hang our meats in the smoker using a lot of homemade rubs and sauces."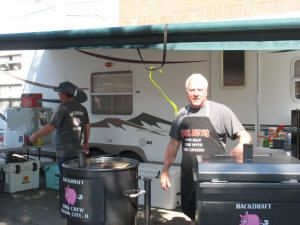 The Backdraft BBQ crew of Mason City with Billy Lemme, Ryan Lemme and Kenneth Rabbe moved up to the KCBS competition after winning last year's Backyard Barbecue competition. They may do a contest in Beardstown next weekend, too.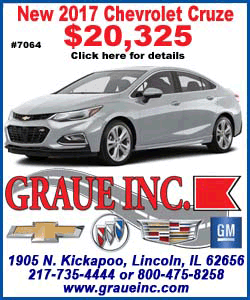 Billy Lemme said, "What makes it special is clean living and going to the gym three times a week." He then said that barbecuers lie almost as often as fishermen.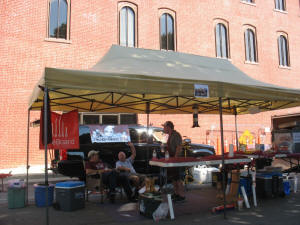 Competing for the second year was SmokinGhost BBQ with Steve Lewis, Will Smith, Dave Bojto, and Paul Boub. They run a concession stand for Illinois Valley Central School District in Chillicothe, Illinois and it was voted top concession stand for their pulled pork.

The team said they are improving rapidly with lots of education under their belt through the National Barbecue and Grilling Association. Teammates said, "We are a Kansas City sweet team" whose flavors represent the taste Kansas City. They use tenderizers to make the meat consistent.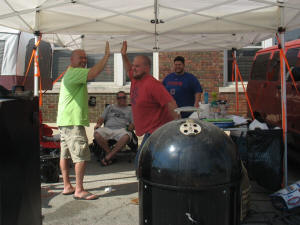 Valet Porking with Randy Macheka, Mike Richards, Mike Korecky and Richard Vahena was here for the fourth time. They have competed in Kentucky and Wisconsin, too, and go to about ten competitions a year.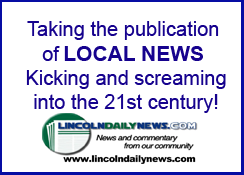 The team said, "We are more rub focused. The sauce is icing on the cake." They also give it "a lot of TLC and teamwork."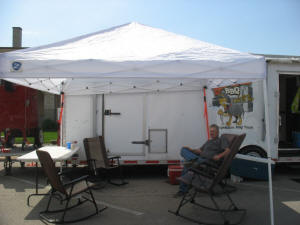 Competing for the sixth year here was Bonehead BBQ with Rich and Sherry Jones. They compete throughout the Midwest in Illinois, Michigan and Wisconsin and have also competed in Kentucky and Tennessee. Rich Jones said they work with Operation BBQ Relief, which cooks for people in natural disasters like the one in Washington, Illinois a couple of years ago.

Jones said, "Time and care and preparation make the meat special. Jones started the brisket Friday evening at 11 and cooked it several hours and said "the secret is cooking it until it's done."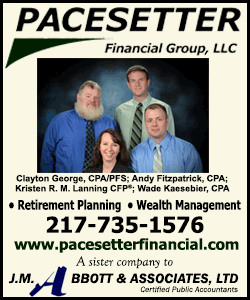 Backyard BBQ

The Fifth Annual Backyard BBQ competition sponsored by Royal Oak, allows amateurs to showcase their BBQ talents. This year, there were about 20 teams with each one cooking pork, ribs and chicken. Some teams also vied for a people's choice award for ribs.
For several of these teams it was their first time here or even their first competition.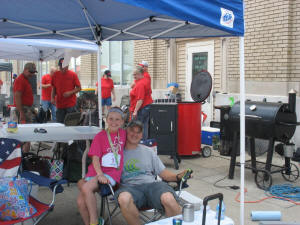 First timers Corey Farmer and Gary Rademaker of Smoke Show are new to backyard BBQ competitions. Farmer said, the "kids love their smoked meat," so they decided to enter the competition.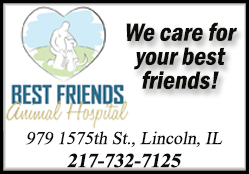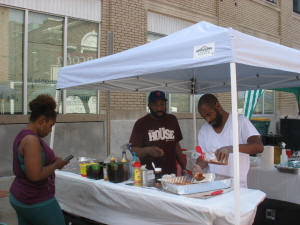 For Blowin' Smoque BBQ of Crete, Illinois it was their first time competing here. Team members Erica Taylor, Brian Taylor, and Emmanuel Pugh have competed at Mount Carmel and won third in chicken and second overall at Ribberfest. Erica Taylor said, "All the rubs and spices" make the meat special.



Another first-time team in this competition was Sauced Up Smokers with Greg Smith, Drew Cripe, and Nick and Chelsea Wright. They have competed at Macon and Moweaqua and won both. Nick Wright says, "The meat is prepared with love and we love to grill. We know how to rub our meat."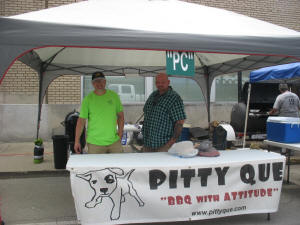 New to this competition, but not to the backyard barbecue circuit was Pitty Que, made up of teammates Eric and Eric of Westmont, Illinois. They make and sell barbecue sauces in stores and online. The team has been competing for two years in backyard barbeque competitions and received two first places and six top ten prizes in the last couple events. The team said, "We use our award winning barbecue sauce and dry rubs to make our meat special."
Kid's Que

This year was the third one for the Kid's Que competition. The event has two age groups with one for children 7 to 11 and another group for 12 to 15 year olds.

All the children are provided with ground beef patties, but cooking and staging the patties for presentation is left entirely up to the child.

Most of the teams have competed the last couple years and they compete mainly for fun after helping with the grilling at home. This year six teams competed.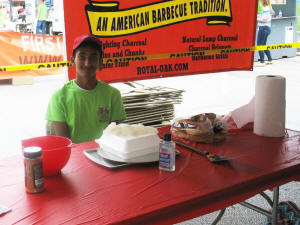 Isaiah Wahab of That One Brown Kid said, "I like to cook and it is fun" and often grills at home.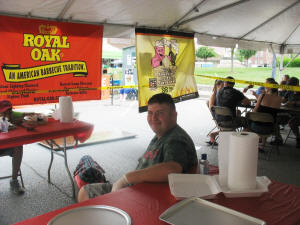 Will Stambaugh of We Will Win said Isaiah Wahab convinced him to enter. Stambaugh said, "I grill at home sometimes" and thought it would be fun to compete.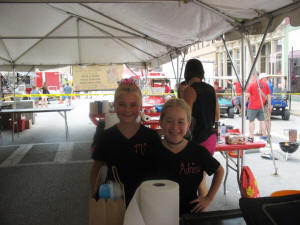 Adrienna Reynolds and Mia Boughton of Grills Gone Wild were here to defend their first place title from last year. Reynolds and Boughton both said they just "enjoy competing."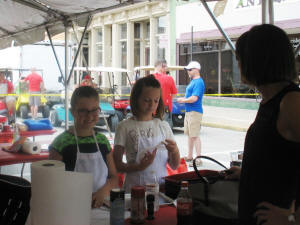 Caitlin McKenna and Molly Fleshman of Team Barbie Q won third last year. Fleshman said, "We have so much fun doing it [and] we are hoping to bring home the bacon this year."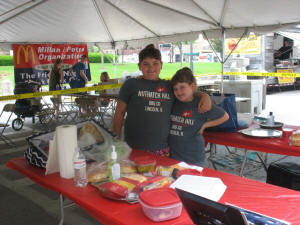 Marin and Malina Luckhart of Little Nuthatch Hill competed the last couple years. They said, "We like competing and just cooking." Having gone to many competitions with their parents, cooking and competing is "in their blood."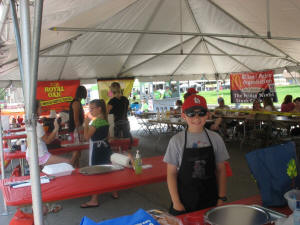 Jackson Mathon of Boy Scout BBQ has also participated every year of the competition. Mathon said, "It is fun and you can change your recipe every year."

All the competitors worked hard at grilling and enjoyed a weekend filled with new and old friendships and rivalries, camaraderie, and great food and fun.

[Angela Reiners]