Lots of history at the center of Christmas on Vinegar Hill

Send a link to a friend Share
[November 26, 2019] During the 31st Annual Christmas on Vinegar Hill held last Saturday, Nov. 23, the streets were filled in Mount Pulaski. The fun filled shopping event has become so popular that in recent years it has been expanded to outlying areas to include Chestnut and Elkhart.
The greater number of vendors filled spaces near and around the downtown with the American Legion building hosting the most setups for shoppers.

The annual event also offers great opportunities to celebrate Mount Pulaski's rich history. There was a steady crowd flowing through the Historical Society and Museum building, though it might not have been so much for an education as for trying to snare some scrumptious take home dessert or a collectable ornament.

In the center of town, elevated on a hill above all other properties is the main attraction in Mount Pulaski, the historic courthouse where Abraham Lincoln conducted business during his years as a circuit rider lawyer.

Logan County was yet a young county when Mount Pulaski became the second official county seat and legal business was conducted at that courthouse from the years 1848 - 1855.

Abraham Lincoln was the driving force who tenaciously led the Illinois legislature to break Sangamon County into three counties, thereby establishing Logan County in 1839.

The first county seat and courthouse was Postville. Mount Pulaski began to grow with the railroads, and in the next election won the county seat away from Postville.
In the meantime, the city of Lincoln was established in 1853. With its founders naming the town for the former young state legislator, who previously was instrumental in the development of the area as a surveyor, and a well-known and loved circuit riding lawyer with wit and charm, it stood to reason the city named for him would grow. Come the next election after the naming of the city of Lincoln, the county seat moved back north.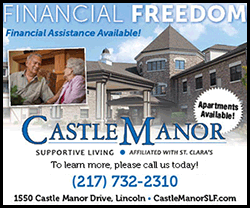 The Mount Pulaski Courthouse has remained a treasure to the community and the community values its place in history where the stories of Abraham Lincoln are still told today.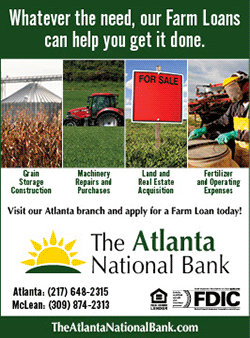 Many of the visitors on Saturday were from a distance and for some it was their first time to town. For a number of those a visit to the courthouse was on their list. It was surely not a disappointment as from the moment they entered they were greeted warmly by volunteers in period dress and supplied endless stories of interest, and they got warm refreshments and sweets too boot.

Traditions of years past are relived and reinvented each year during the Mount Pulaski Christmas on Vinegar Hill. No wonder the day has been so popular for over 30 years.

[Jan Youngquist]