Visitation: Monday, January 2, 2023, at Fricke-Calvert-Schrader Funeral Home in Lincoln, from 4 p.m. to 7 p.m.
Service: 11 a.m. on Tuesday, January 3, 2023, at Lincoln Christian Church
Funeral home: Fricke-Calvert-Schrader, Lincoln
Obituary
Thomas Myers, 86, of Lincoln, passed away on Tuesday, December 27, 2022, at Lincoln Christian Village.

Tom was born on June 20, 1936, in Terre Haute, Indiana, the son of Oscar L. and Julia S. (Hudson) Myers. He married Marge Iden on September 2, 2017, in Lincoln. She survives him.

Tom is also survived by his children, Robyn (Steve) Brittain, Thomas (Marie) Myers II, and Kerry (Lori) Myers; 13 grandchildren and eight great-grandchildren with three on the way.

Tom was preceded in death by his parents, three sisters, Helen (Eugene) Morris, Flo (John) Ruszler, Margaret (Charles) Coonce; a brother, Richard "Dickie" Myers; and previous wife, Sharon Stewart. Tom was the last of his immediate family.

Throughout his life, Tom fervently pursued two passions: his love for music and his love for Jesus. Recognized as a gifted singer from an early age, he attended Lincoln Bible Institute to study Music and later earned his Master's in Voice from Oklahoma University. Tom taught in the music department at Midwest Christian College in Oklahoma City for several years while also serving as the Music Minister at Draper Park Christian Church. In 1968, Tom returned to Lincoln Christian College as a music professor and would eventually become Chair of the Music Department. He also severed as the Music Minister at Lincoln Christian Church. While at LCC, Tom directed the college's two premier choirs. Both the all-female Gloria Choir and the all-male Master's Men toured throughout the United States annually. He was honored to work with and create life-long memories with so many fine vocalists.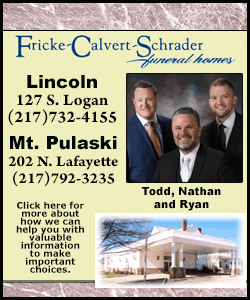 In 1984, Tom moved to California and began a new career in local church ministry, first as a Music Pastor and then as a Preaching Pastor. He ministered at churches in Granada Hills, Victorville, Hemmet, and Fallbrook, California. In 2006, Tom moved back to Illinois to lead the Morton Christian Church before retiring. Throughout his career and even in retirement, Tom continued to use his musical gifts in service to his Lord, directing church choirs and putting on countless church musicals/cantatas. He directed his final choir at the age of 83 at Lincoln Christian Village where he resided until his passing.
Tom made a point to be active in each community he lived in. He would often sing in, if not lead, the local community choir as well as volunteer for various civic events. He was a longtime member of Kiwanis in both Lincoln and California, serving as past president while in Victorville, CA. Tom was a loving father, a devoted husband, a doting grandfather and uncle, and a strong example of a "good and faithful servant." Some of his fondest memories were of his cross-country road trips visiting relatives along the way. He was loved and will be missed by all.

Services for Tom will be held at 11a.m. on Tuesday, January 3, 2023, at Lincoln Christian Church with Ryan Edgecombe officiating. Visitation will take place on Monday, January 2, 2023, at Fricke-Calvert-Schrader Funeral Home in Lincoln, from 4 p.m. to 7 p.m. Burial will be at Roselawn Memorial Park in Terre Haute, IN, on Wednesday, January 4, 2023, at 1 p.m.

In lieu of flowers, memorials may be made in Tom's name to Lincoln Christian Village.
Click here to send a note of condolence to the family of Thomas Myers