2023 LCHS Homecoming Parade
LDN's Teena Lowery leads the parade as Grand Marshal



Send a link to a friend Share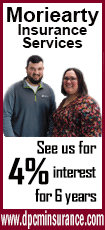 Friday afternoon was a perfect setting for the 2023 LCHS Homecoming Parade. The sun was bright, the sky was virtually cloudless, and the temperatures were warm but not so warm as to exhaust those who were walking from Wyatt Avenue to the downtown area and around the Logan County Courthouse Square.

Among the many entries in the parade was one that made Lincoln Daily News especially proud. This year the grand marshal for the event was LDN's own Teena Lowery.

While most all of Lincoln know Teena from her years as a delivery person for the Lincoln Post Office, those who follow high school and junior high sports know Teena as an enthusiastic sports fan, writer and photographer. The staff at LDN know her as that gal who one day decided to take a few pictures, and over the years has become the star reporter of local sports.

The current owners wish that they could take credit for Lowery being a part of the daily publications, but all they can really do is feel gratitude that when the ownership of the paper changed one year ago this coming October 1st, that Lowery graciously agreed to continue on with them at the helm and her handling all the sports coverage in Logan County.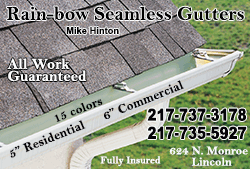 So, how did it all begin? Lowery was a postal carrier who several years ago delivered daily to the offices of CCAonline and Lincoln Daily News on Keokuk Street in Lincoln.

One day when she stopped in to deliver mail, she saw then owner Jim Youngquist and told him she had gone to a game at the high school and had taken some pictures. She wondered if Jim might want a few, just for fun, not for money.

Anyone in small business will tell you that when someone offers something for nothing, one should take advantage of that. Lowery's pictures were stellar. The quality, the action, the expressions she captured on the faces of young athletes got everyone's attention. Soon, Lowery was asked to make sports photography an ongoing gig, exclusively for Lincoln Daily News.

Digging a little bit, LDN learned that Lowery had a passion for sports, that she had initially tuned her education in that direction but had taken a small turn. Now, she was turning back to her passion on a part time basis that worked well for her and LDN.

At that time there was another sportswriter on staff, so Lowery stuck to pictures for a while. Then circumstances shifted and there came a need for someone to cover Railer basketball. Lowery was more than happy to come on board as a stringer for LDN.

"Since that time, Teena has been completely invested in youth sports in Logan County, and we are so grateful that she shares her love for young people and sports with the readers of our publication," says managing editor Nila Smith. "She knows the kids by name, she knows the parents of most of them, has built lasting relationships with coaches and all in all has become the 'go-to' person for sports stories."

In 2022, Lowery saw early in the season that the Lady Railers basketball team was going to go far, and she stuck to those girls like glue. She covered every game, and she still covered sports at Hartem, in Mt. Pulaski, junior high sports, volleyball on the junior high and high school levels, and covered the Railer boys' basketball season as well.

She spent a lot of time with the Lady Railers. Her instincts were right on the money and that team impressed not just Logan County but the entire state, and Lowery was there, cheering them on, and telling their story.
Her writing style is free and happy and energetic. When readers click to her coverage, they are transported into the gym with Lowery, but they are also transported into the personalities of the young players. They learn that Taylor Swift inspires them, and that Lowery knows almost as much about the superstar singer as the girls do.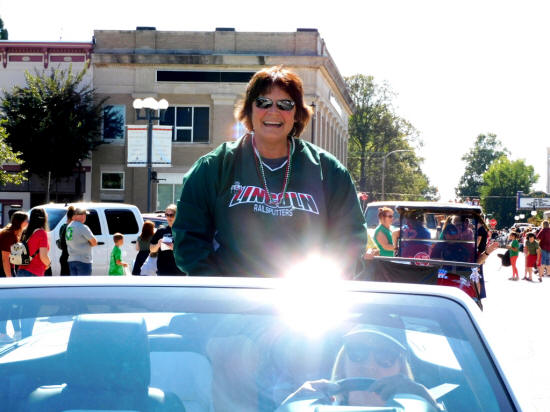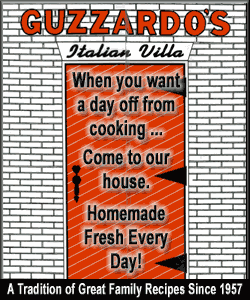 Readers see the heart of the players and they see the heart of Lowery. The Ladies are in it to win it, and Lowery is right there with them.
Lowery also spent a great deal of time with the boy's team, and she touted their accomplishments last year as well. And then there is Railer Nation. Lowery never let a game go by that she didn't comment on Railer Nation and their enthusiastic support of the basketball teams.

When the ladies from basketball past got in the mix and started chowing up in force to support the 2022-23 team, Lowery was on it, drawing attention to them and to the superstars of Logan County basketball from the past.

So, it stands to reason that with all the bonds she has created within Lincoln sports, that when it came time to choose a grand marshal for the 2023 Homecoming parade Lowery was the name that came to mind.

When LDN heard that Lowery would have that honor, congratulations were sent out quickly. Teena, in her usual humble yet funny way quipped, "Well, they wanted Taylor Swift but she wasn't available, so they settled for me!"

Then she chuckled and said "those kids!"

It was a grand parade and Teena Lowery leading it as the grand marshal just got it off to a great start. The floats this year were amazing, the bands were well tuned, and candy was flying into the large crowds of people gathered to watch and cheer.

The Logan County Fair Royalty was there along with the high school freshman, sophomore, junior, and senior attendants as well as this year's homecoming king and queen.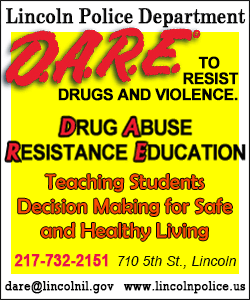 Several clubs and organizations were represented including the Lincoln Youth Football team, Lincoln Youth Cheerleaders, Lincoln Futbol Club, high school sports including the Railer Football team that is off to a really good start this year, LCHS Cross Country, Golf, Soccer, Swimming, Tennis, Volleyball, the Railettes and the LCHS Foundation. The LCHS FFA was represented, and Logan County 4-H. The Lincoln Park District, Logan County Pride and Logan County Animal Rescue also had entries in the parade. Junior High School sports was represented and the schools' bands, cheerleaders and more were on hand. The city of Lincoln Third Friday Committee was in the parade as were some of the local businesses such as UCB Bank and Tremont Bank in Lincoln.

And, another big treat, team members from the 1973 Railer Big 12 Football Championship were driven through town in a Lincoln Fire Department truck.

See The Boys of Fall – The 1973 Big 12 Champs return to Hamblin Field in today's edition.

All in all, it was a great day, and by the way it came to a great ending with the Railsplitters beating Peoria Manual with a score of 48-12!
[Nila Smith]