Amid baskets of spindles, stacks of boards and tools and equipment lining the walls, he meticulously turns pieces of lumber into works of art. His prized possession is a handmade carpenter's box, modeled after an 18th century design, which holds his woodworking tools.
Simpson, who grew up in Oquawka, a Henderson County town on the Mississippi River, said his specialized business is booming enough to keep him busy 10 hours a day, six days a week.
"Local business has depended entirely upon word of mouth, which is a slow but sure foundation. It has taken about three years to build up to a point where I have started to feel established," he said.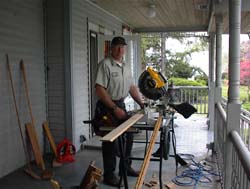 [Simpson works diligently on his latest project.]
But despite his success and obvious talent, his interest in woodworking was sparked more from necessity than career planning during his early years in the Army.
"The Army post had a craft shop for soldiers to use in their off-duty time. Needing furniture and making only $289 a month, the interest grew more out of need than recreation," he said. He left the Army to complete his college education, taking a sabbatical during his junior year to work as an apprentice for a master cabinetmaker in Virginia who specialized in 18th-century work. He also rented a garage while earning a degree in industrial education from Western Illinois University and built and repaired furniture for professors on campus.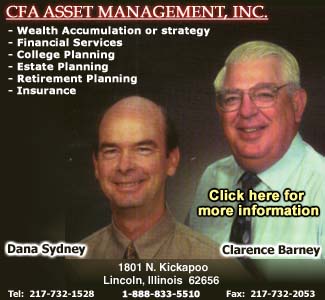 But the skills he learned early in life would one day became a new career. After moving from the state of Washington to Petersburg, he moved to Lincoln in 1988 for a job transfer, then retired as an Infantry Major in 1994. He spent the following year teaching industrial arts for Peoria School District 150's Youth Farm. During the same time, he fulfilled a personal dream by purchasing, moving and restoring the Walnut Grove School, which pre-dates the Civil War and now sits next to his home.
It was during his daily drives to his job at the Armory in Decatur that he first spotted the schoolhouse. "One of my routes took me on this blacktop, right by this schoolhouse. The more times I went by it and the more I thought about it, the more it worked on me," he said. "It was surrounded on three sides by plowed fields. The side porch had fallen off and it was falling in ruin. I thought 'what a shame,' because I knew there couldn't be many left. I wanted to save it."
Simpson purchased the schoolhouse from its previous owner for $3,500. "The owner just wanted what he had in the paint job. It was pretty rough," he said.
After purchasing the home, Simpson tackled the job of restoring the schoolhouse as much as possible before he moved it. "I would get up at 4 a.m. and go to work. On the way home I would stop and work on it till dark. I salvaged the 40-foot brick chimney, took out all the wood trim, refinished it and put it back in. Then we moved it, gutted the old plaster that was falling off, insulated it and restored windows. I won't allow any alterations upstairs or it would lose its historical value," he said.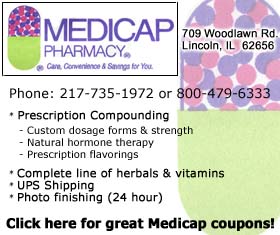 The non-standard schoolhouse was built before federal building guidelines were instated. The 28-by-32-foot building originally had a tornado shelter under the front porch, which Simpson also recreated.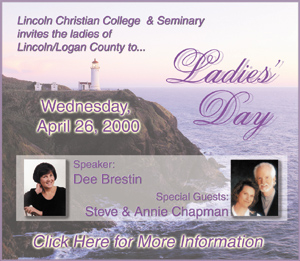 The process of restoring the schoolhouse was not a piece of cake. After completing much of the painstaking work and moving the structure, a tornado ripped through the area, blowing three banks of windows out. Simpson was out of town attending a family member's funeral when the disaster happened, but neighbors came to the rescue and placed tarp over the vacant windows to prevent the interior from being damaged.
Another storm hit while the roof was being replaced, and Simpson worked through the night, shoveling ice off the tarp-covered roof, in order to save the original stamped-tin ceiling. The ceiling was saved, but Simpson suffered a few broken ribs. Denny Uphoff, a friend and neighbor, was involved in the restoration project every step of the way.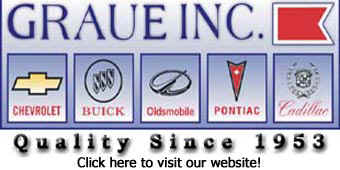 Simpson's wife, Nancy, operated an antique and crafts business and tearoom out of the school for a few years. However, they closed the business after deciding it was taking too much time away from their three children, and the school was empty for about a year until they decided to rent it as a home.
"The first time I advertised in the paper, I had five takers the first night and 15 by the second night. No one ever walked away from it saying they didn't want to rent it," he said. "The first couple who rented it were both teachers and they loved it."
Simpson said the entire restoration project, which totaled about $70,000, was well worth the effort. Even though during the time he was restoring the building he wasn't able to obtain any funding from area historical associations, several have now expressed interest in purchasing the school. "I let renters in it just to help defray costs of the whole expedition, but I won't make any alterations. The city of Atlanta and Mount Pulaski have both approached me and want to purchase it and move it to their communities. It is a finite resource."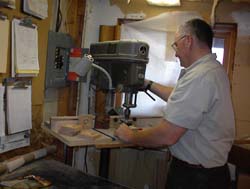 [Hard at work in his shop.]
The summer he worked on the schoolhouse, he also converted his barn to a woodworking shop and became so busy he decided to do it full time and not return to teaching. Now – many church altars, podiums, custom furniture pieces, stair banisters and millwork jobs later – he is enjoying his retirement by working full time.
He is also currently involved in the restoration of a Victorian mansion damaged by a tornado in Hamilton. One of his most involved jobs in Lincoln is ongoing work on a local doctor's restored Victorian home on Tenth Street. The work includes replacing the pine baseboard with oak trim, designing and replacing missing stairway pieces, paneled, coved ceilings, new built-in cabinets and a custom-designed hall tree.
The former Lincoln scoutmaster is also an adult adviser for a living history Explorer site operated at the Log Village on the Old Threshers grounds in Mount Pleasant, Iowa. He also plays in a Scottish bagpipe band and performs folk music for the Old Threshers Reunion.
As a child, he moved often because of his father's occupation and has lived in too many states to count. His traveling continued during his tour with the army, and he has now lived in Lincoln longer than any other place. But someday he hopes to finish restoring his own house and return to his Hamilton County roots and build a house on the river.
[Penny Zimmerman-Wills]
In April 1998 Steffens retired from Mitusbishi in Bloomington after nine years, and he, his wife, Bette, and son and daughter-in-law, Jason and Beth, purchased adjacent buildings 121-123 on Sangamon Street. They renovated the nine apartments and opened Eckert's Fine Furnishings. Larry's son Jon joined the corporation in December 1998 as a partner and chef, and they opened Eckert's Fine Dining. The restaurant serves gourmet, six-course French and Italian fare. On May 1, the corporation will open Grapes & Grounds, a café that will serve imported coffee, wines and specialty beer.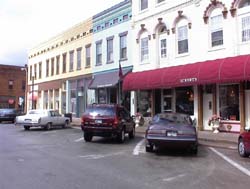 [100 block of Sangamon Street (right to left): Eckert's Fine Furishings, Eckert's Fine Dining, Grapes & Grounds, Pluth Tin Shop and The Pink Shutter are
owned by the Steffens Corporation.]

Larry Steffens first purchased the property on Sangamon Street as rental property. His forte is in the area of design, and he enjoys restoring old buildings. Steffens and his wife, Bette, manage the design studio but leave the day-to-day running of the corporation to their sons. The Steffenses are in the process of creating a 4,000-square-foot penthouse above the Pink Shutter to be used as their personal residence. Steffens said this move will bring them closer to their business, their children and their grandchildren.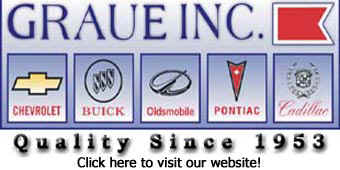 Cooperation and teamwork is Steffens' mantra. He fosters this belief by belonging to the Chamber of Commerce, the Sangamon Street Block Association and others. He says, "Things happen very quickly in numbers." Steffens organized the Sangamon Street Block Association, a group comprised of Sangamon Street business owners, bankers, the mayor and others interested in what's going on Sangamon Street. They meet every third Tuesday of the month at Eckert's Fine Dining in an open forum to talk about problem areas on Sangamon Street.
"Lincoln has a unique historic downtown area," Steffens says. He sees Lincoln developing into a tourist hub like Galena. He sees Lincoln as "a destination, a place where people go to do something different." Steffens commends the city council and the street commissioner for their cooperation in making the development of Sangamon Street a lot easier.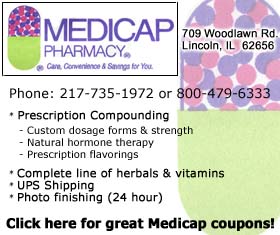 "The goal is to make people feel welcome," said Steffens. The Steffenses pride themselves in offering people hospitality and the use of their services even when some of their more senior visitors only come into their shop to rest.
Steffens wants to contribute to the revitalization of the downtown area. "Lincoln has a lot to offer. It has a great potential for commerce. There are 1½ million people within a 50-mile radius. We want these people to come to Lincoln to dine, shop and stay for the night," he continued. His vision for Lincoln in the next 10 years is that it will be a retail- and service-based city. He wants Lincoln to become a weekend destination spot.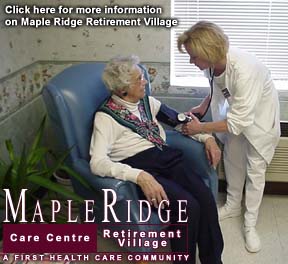 Two of their 13 apartments on Sangamon Street will be renovated into European-styled Bed and Breakfast suites within the next two years. The suites will be available in packaged deals with and without meals. The corporation is already in negotiations with Amtrak to promote the Bed and Breakfast suites along Amtrak's main corridor.
The corporation also owns the 125 and 129 Sangamon St. buildings, the current locations of the Pluth Tin Shop and the Pink Shutter respectively. Within the next two years, the Steffenses plan to extend their restaurant into the Pluth Tin Shop. The back two-thirds of the shop will be used as additional seating for the restaurant and as a piano lounge that will feature jazz and blues. Steffens hopes to have a long relationship with the Pink Shutter. "They are good tenets, and they bring a lot of people onto the block," he said.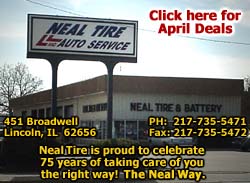 Three years ago the corporation purchased 412 Pulaski, across from the Vintage Fare restaurant and renovated the entire building. They also purchased two properties at 519 and 521 Broadway St., locations leased by Action Rental and Sorrento's. These facades are being refurbished with a renovation grant.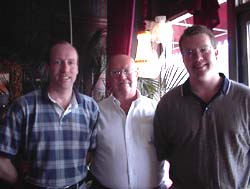 [Jon, Larry and Jason Steffens in
the Eckert's Fine Dining Restaurant]

One of Steffens' pet projects is his adoption and renovation of the two parks in the 100 block of Sangamon Street next to the railroad tracks. Americorp volunteers, the railroad and the Sangamon Street Block Association assisted with the project. Larry Steffens has financed the addition of flowers, benches, sculptures and the weekly upkeep of the parks. He showcased his flare for design with the hand-painted mural on the back wall of the Neal Tire building.

[100 block of Sangamon; Paul and Larry Steffens' mural]

As for the future, he says they will continue to look at buildings that interest them in the downtown area. "My sons have a lot of energy and are very ambitious. We are not done by any means," Steffens concluded.