Logan Countyís traditionally large hog show offers increasingly high-quality competition. It reflects the hard work of youngsters and their families in preparing an animal for the fair. Those who succeed here usually perform very well at the Illinois State Fair the following week.
Click here for Logan County results
of the Junior and Open Barrow Shows
from the Illinois State Fair.
Logan County youth did well in the Junior Gilt Show on Sunday.
Click here to go to the pages of state fair results posted by LDN.
Vernon Klockenga of Lincoln is the recently retired swine superintendent at the Logan County Fair. In his 40 years of show management, he has observed a number of hog showing trends. Klockenga believes one aspect has remained constant. Show competition brings families together.

[Danielle Peifer of Lincoln has been showing Hampshires at the Illinois State Fair since she was 10. The LCHS senior showed the Reserve Grand Champion Barrow at the Logan County Fair this year. She took home fourth place in her Hampshire barrow class at the state fair.]
Just outside the show ring, anxious dads give last-minute advice to their sons and daughters on how to handle the barrow or gilt in the show ring. Moms sit in the stands armed with cameras to capture the memorable moment of winning the class. And when there is victory, the whole fairground community celebrates.
In todayís world of hectic schedules, Klockenga observes that "the most bonding for some of these families is getting hogs ready for the fair."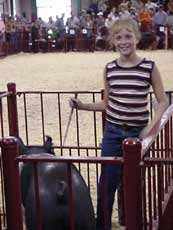 [New Hollandís Katie Conklen and her barrow wait for the judge to finish placing the class.]
The Klockenga family is deeply rooted in the fair tradition. "I donít think Iíve missed a day of the fair in my life," admits Vernon, "and I probably wonít until I die."
Even though he is retiring as swine superintendent, Vernonís grandchildren, Rachel and Corey Jones, are now involved in showing hogs.
Swine competitions are not only family traditions, but they have become big business. Klockenga estimates that more than half of the exhibitors purchase their pigs from purebred breeders. Although prices for very promising gilts and barrows can spike around $800, most youth pay around $200 for their show animal.
Those youth who have their own sows often pay $70 for a double dose of some of the best boar semen in the country. This process is called artificial insemination and is largely responsible for the higher quality of stock at many fairs.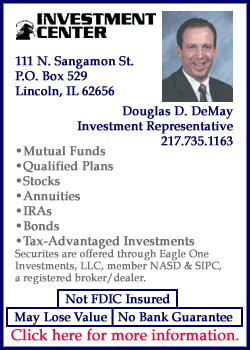 According to the Logan County Fair book, exhibitors must own their gilts (females who have not yet littered) or barrows (male pigs that have been neutered) by June 1 of that year to compete in the August fair.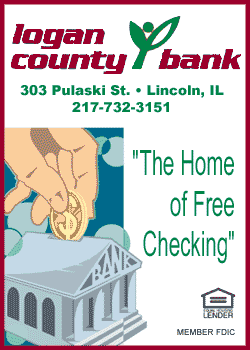 It doesnít take long for newborn piglets to grow into the full-size pork bellies on display at the fair. There is approximately one pound of gain for every three pounds of feed consumed. So, a crossbred gilt farrowed on Jan. 10 could easily be 270 pounds by show time.
Logan County Fair rules strictly align with those set forth by the state fair. There are four gilt age brackets: Jan. 1 Ė Jan. 20, Jan. 21 Ė Feb. 10, Feb. 11 Ė Feb. 28, and all those gilts born after March 1. The entire group of crossbred barrows is split evenly into six weight classes, while purebred barrows fall into light, medium and heavyweight divisions.
Klockenga points out that barrows weighing in excess of 271 pounds are disqualified from showing at the state fair. However, the Logan County Fair lets them be exhibited in the super heavyweight division without the opportunity to compete for grand champion. This is Logan Countyís way of following state fair guidelines and still allowing youth the positive experience of showing their projects.
There is a fine art to limiting weight gain. About three weeks prior to the fair, youngsters start hand feeding the hogs to "shrink" them into the preferred weight class. They also start walking the animals one to two miles daily to promote muscle growth. This daily routine also helps the youngster better handle their barrow or gilt in the show ring.
The newest fad is to shave the pig and apply oil right before the competition. Klockenga doesnít approve of this practice but admits that those who donít do it often lose out on the top placings.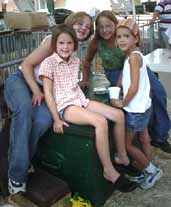 [Fair competitions are a great time for
family and friends to bond.]
All youth have the opportunity to sell their animals at the fair auction. The top place winners usually garner $2-$3 per pound over the market price. Others can earn an additional 50 cents. This makes for some good profit. Those who are going on to the state fair can either deliver their animal to the local buyers after the state fair or pay them market price in exchange for the premium bid.
Klockenga says that local merchants are great about purchasing animals in the auction and providing special monetary awards and trophies to the winners. "I donít even have to ask for their help. Itís good public relations for them."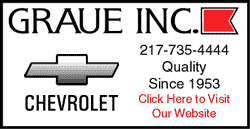 It just goes to show that youth livestock competitions are a family and community affair.