Lincoln Daily News.com
601 Keokuk Street
Lincoln, IL 62656

TEL: 217-732-7443
FAX: 217-732-9630

Lincoln Daily News publishes daily news about the Lincoln/Logan County area on the Internet at www.lincolndailynews.com. (We are not a print publication). All subscriptions are free!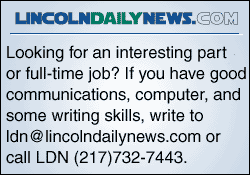 Our mission:
The mission of Lincoln Daily News is to tell the stories of Logan County in a contemporaneous manner, with lively writing and a predilection for simple truth fairly told. Lincoln Daily News seeks a relationship with the good people of Logan County that is honest, neighborly and never patronizing. Lincoln Daily News presents news within a full context that contributes to understanding. Lincoln Daily News is more interested in the marketplace of ideas than the competition of personalities. Without shrinking from the bold delivery of unvarnished fact, Lincoln Daily News operates from the premise that God's creatures deserve the presumption of right motive. Lincoln Daily News eschews malice and cynicism; it approaches every person with dignity and every subject with equanimity. In short, Lincoln Daily News informs, stimulates and entertains.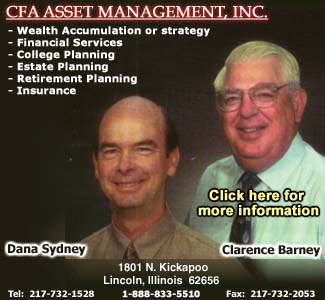 Content:
The articles published in Lincoln Daily News are the result of research and interviews. Any opinions expressed are those of the writers.
Corrections:
Please contact us by phone, fax, mail or e-mail with any information about mistakes, typos or erroneous information. If the error is in an item which is still in the paper, we will correct it online immediately. All corrections will be shown on the "Corrections" page.
Our services:
Lincoln Daily News provides daily news, sports, features and commentary on Lincoln, Logan County, and the surrounding area.
To promote local businesses, we offer display advertisements at very reasonable rates, and links to business Web sites.
Classified advertising for businesses and individuals is available for all the standards categories. Submit your ads at our LDN office via phone, fax or in person.
"Happy ads" are a special feature to enable our readers to celebrate birthdays, graduations, anniversaries and other good news. Call us for details.
For employment information, contact Lincoln Daily News at their offices.


Our staff:
Managing editor: Jan Youngquist ldneditor@lincolndailynews.com
Copy editor and writer: Mary Krallmann
mkldn@lincolndailynews.com
Technology assistants: Tyler Havlin
thldn@lincolndailynews.com
---
Readers invited to Harvest of Talents, where millennium quilt will be sold
8-19-00
Dear Lincoln Daily News staff:
Thank you very much for the lovely article and pictures last week regarding the Harvest of Talents millennium quilt. It is exciting for the H.O.T. quilters to have their special quilt on display to be viewed by thousands during the Illinois State Fair.
As your story stated, the quilt will be sold at auction on Saturday afternoon, October 28th, in the Fellowship Center of Lincoln Christian Church. All monies raised from the sale of this quilt and other quilts plus furniture and many other handcrafted one-of-a-kind items will be channeled through International Disaster Emergency Service to meet hunger needs all around the world.
We invite your readership to join us at the Harvest of Talents on October 28th for a day of wonderful food, fellowship and family fun. Anyone interested may call the office of Lincoln Christian Church, Lincoln, Illinois, @217-732-3168 to obtain more information.
Blessings,
PAT SNYDER, Coordinator 17th Annual Harvest of Talents for World Hunger
P.S. Information is also available at the above phone number concerning the Harvest of Talents Golf Playday scheduled for Sept. 16 at the North Greens in Atlanta.
---
To the editor:
My heart skipped a beat,
So I sat down with pen,
"Thanks for flying our flag
On page one, LDN."
--Maxine Seggelke
(Note: This poetic message, sent to the Lincoln Daily News on July 5, refers to the waving flag in the July 4 issue.)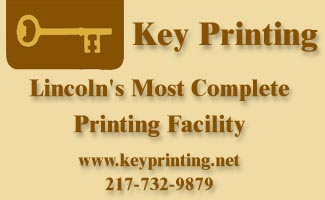 ---
Please send your letters by e-mail to ldneditor@lincolndailynews.com or by U.S. postal mail to:
Letters to the Editor
Lincoln Daily News
601 Keokuk St.
Lincoln, IL 62656
Letters must include the writer's name, telephone number, mailing address and/or e-mail address (we will not publish address or phone number information). Lincoln Daily News reserves the right to edit letters to reduce their size or to correct obvious errors. Lincoln Daily News reserves the right to reject any letter for any reason. Lincoln Daily News will publish as many acceptable letters as space allows.