posted daily OVER THE NOON HOUR (CDT)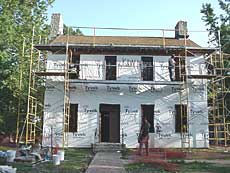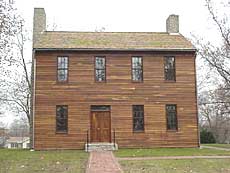 [Postville Courthouse State historic site, 914 Fifth Street, Lincoln, Illinois]
---
Click here for news from other
sources regarding the presidential election
---
Courthouse needs staffing volunteers

Renovated Postville Courthouse
sets Dec. 9 open house

[DEC. 6, 2000]

The Postville Courthouse State Historic Site on Fifth Street in Lincoln, which has been closed since April 16 of this year, will reopen on Saturday, Dec. 9, with an open house from noon to 3 p.m. This is a special reception for the public to come and see the courthouse after its $250,000 restoration, said Richard Schachtsiek, site manager of Postville and of the Mount Pulaski Courthouse. He also hopes to recruit volunteers to help staff the building, one of the important sites in the Looking for Lincoln tourist program.
---
A holiday contest for you!
As a participant in the Ho-Ho-Dough holiday contest, Lincolndailynews.com has lots of tickets to give away to its loyal readers. Starting today and running through next Thursday, LDN will provide five daily questions, pulled from current ads and yesterday's stories, for you to answer. Each correct answer earns one ticket. Just e-mail your responses back to Lincoln Daily News, and we will save your tickets for you to pick up late next week. A drawing for $5,000 cash and other prizes will be at 5 p.m. Sunday, Dec. 17, at the Logan County Courthouse. Good luck!
Questions for Wednesday, December 6, 2000:
1. What product is featured on the home page of Abe's website?
2. When was the Peoria Farm Show?
3. Which downtown Lincoln merchant sells custom embroidery blankets?
4. How many points did the Lincoln College women's basketball team score in their game against Moraine Valley last weekend?
5. Who is the principal at Washington-Monroe School?
Click here to submit your answers
---
New LDN page!
---
'Hear'
[DEC. 6, 2000] Over 22 million people in the United States suffer from some type of hearing impairment. The advocacy group Self Help for Hard of Hearing People (SHHH) has teamed up with author Anne Pope to publish an important book on this medical condition. "Hear" has been written as a collaborative effort to provide advice to and guidance for persons who are experiencing a transition in their auditory perception.
---
All parents welcome
District 27 schools and
parents create unique learning opportunities for students
Part
2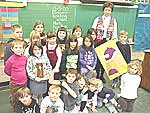 [DEC. 6, 2000] There once was a time when principals and teachers had to call parents in to the school to discuss a child's disciplinary or academic shortfall. But these days, parents of Lincoln District 27 elementary students frequently visit their child's school to help teachers and administrators enhance the educational process.
---
Lincoln Park District plans
---
Plays chosen for next season
[DEC. 6, 2000] Lincoln Community Theatre is pleased to announce the three productions selected for presentation in the summer of 2001.
---

Lincoln Christian College basketball
LCHS vs. Jacksonville
Hartsburg-Emden vs. Illini Central
Mount Pulaski vs. Maroa-Forsyth
Olympia vs. Normal West
---
---

Wreath, swag, trees top the voting
[DEC. 6, 2000] A candlelight courthouse tour, a children's story time and music by local choirs, as well as lavishly decorated Christmas trees, wreaths and swags, brought nearly 3,000 people to the Logan County Courthouse for the 2000 Festival of Trees from Nov. 24 to Dec. 3.
---
Former ballplayers
---
What's up with that?
---
Hear it here!
Fax Machine tonight
Mike Fak and Jim Ash host a community call-in show. Their show airs on Lincoln Daily News over the MediaOne link every Wednesday night beginning at 7 p.m.
Sponsors: Mitchell-Newhouse, Gleason's Dairy Bar, J&S Auto
---
---


[click here for top stories for the day from around the world]
---
World/national news coverage
---