posted daily OVER THE NOON HOUR (CDT)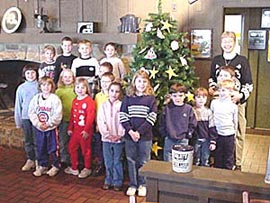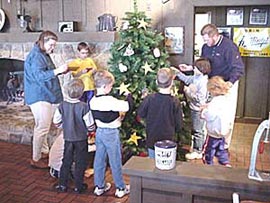 [Mrs. Stamm's first grade class from Zion Lutheran School decorated trees and sang carols at the Cracker Barrel this morning.]
---
Click here for news from other
sources regarding the presidential election
---
Postville Courthouse
open house
Students bring holiday cheer to Cracker Barrel
[click here for details and photos]
LCHS Christmas concert Thursday
[DEC. 12, 2000] The LCHS Band and Choir will present a Christmas concert on Thursday, Dec. 14, at 7:30 p.m. in the high school auditorium.
Theft warning
---
Part 1
Springfield at holiday time
[DEC. 12, 2000] The holiday season is in full swing, which means a hectic schedule of shopping, baking, entertaining and decorating. What better way to take a break from the hustle and bustle of the season than to take time out to enjoy some holiday activities?
---
Twelve months of pictures
[DEC. 12, 2000] Time passes, December comes, and we turn to the last page of our calendars. Then it's time to think about the next big turning point, which is a whole new calendar. There are so many options to choose from. Calendar selection is influenced by practical factors such as overall dimensions, readability and space for writing notes in the squares. My primary consideration, however, tends to be whether I like the pictures.
---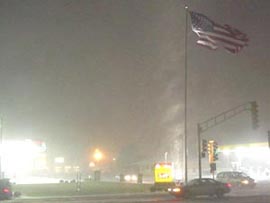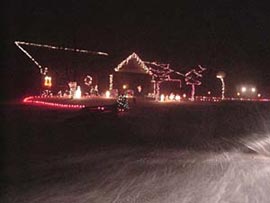 [Lincoln escaped the major influences of Monday's first winter storm. It was late afternoon before the storm caused any major stresses. At the height of the storm, whiteouts and slick roads made travel dangerous.]
---
Hear it here tonight
Varsity basketball: Lady Railers vs. Lanphier at 7:30 p.m.
Sponsors: Mitchell-Newhouse, Gleason's Dairy Bar, J&S Auto
---

---
---

---
Great site
Weather page
---
A holiday contest for you!
As a participant in the Ho-Ho-Dough holiday contest, Lincolndailynews.com has lots of tickets to give away to its loyal readers. LDN has been providing five daily questions, pulled from current ads and yesterday's stories, for you to answer. Each correct answer earns one ticket. Just e-mail your responses back to Lincoln Daily News, and we will save your tickets for you to pick up late next week. A drawing for $5,000 cash and other prizes will be at 5 p.m. Sunday, Dec. 17, at the Logan County Courthouse. Good luck!
Thursday's edition will be the last day for questions.
Readers who have won tickets may pick them up at the LDN office Friday afternoon or Saturday morning.

Questions for Tuesday, Dec. 12:
(Today's questions are worth THREE tickets each!)
1. What does Robert Prunty do? (Double points if you can name both of his occupations)
2. What kind of dog is featured in the Maple Ridge Care Centre website?
3. What Rotary committee does Emil Stahlhut lead?
4. When and where is the Corn and Soybean Classic held?
5. Which LDN advertiser sells Victorian Christmas arrangements?
Click here to submit your answers
---
---
New!
Mike Fak in Lincoln Daily News
Logan County's own Mike Fak, commentator on LincOn TV's "Fak's Machine" program and popular local print commentator, can now be read in Lincoln Daily News.
LDN will be hosting articles and commentary by Fak on local issues and issues which have local impact. Fak is a voracious writer, turning out numerous articles on other issues which have state, national and international impact. His other articles can be viewed on his website at www.fakmachine.com.
---
Hear it here!
Fak's Machine: Mike Fak and Jim Ash host a community call-in show. Their show airs on Lincoln Daily News over the MediaOne link every Wednesday night beginning at 7 p.m.
Sponsors: Mitchell-Newhouse, Gleason's Dairy Bar, J&S Auto
---


[click here for top stories for the day from around the world]
---
World/national news coverage
---