TOP STORIES
Carroll Catholic state champs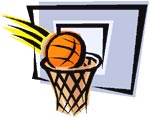 [DEC. 22, 2000] Carroll Catholic girls are the new state champs. This is their first state title. The championship game of the Illinois Elementary School Association Girls Class 8A state basketball tournament was played at Jacksonville Thursday night.
For ESDA and 9-1-1 helpers
A night of honors and appreciation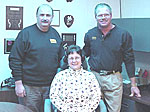 [DEC. 22, 2000] On Sunday, Dec. 17, at 6 p.m., approximately 150 emergency volunteers and friends gathered in the Myers Student Center at Lincoln College. They came for the eighth annual ESDA and 9-1-1 awards dinner. The feast was catered by Warren Wendlandt, who runs the catering service at Lincoln College and is an emergency volunteer in his spare time.
School District 27 board begins
planning for construction process
[DEC. 22, 2000] Members of the District 27 school board are tackling some of the complex problems involved in building the two new schools that will replace Central Elementary and Lincoln Junior High School, such as exactly how much supervision of the construction process the architect is responsible for and whether to hire a construction manager.