NEWS

PEOPLE
COMMUNITY
ENTERTAINMENT

FEATURES
The Arts
REVIEWS
EDITORIAL
COMMENTARY
ADVERTISEMENTS


Register your name among the many others with the LDN User Registration!
CONTACT US
LDN is best viewed with
Internet Explorer 5.0.
posted daily OVER THE NOON HOUR (CDT)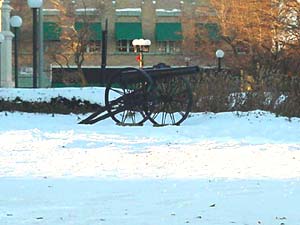 [Brace yourselves Logan County, according the forecast the snow is about to mount up again!]
---
Staying safe at home
Fire safety important
in cold winter weather
[DEC. 28, 2000] This year's unusually cold weather, along with the sudden increase in heating costs, may tempt people to look for ways to supplement the heat in their homes, says Steve Dahm, Lincoln's assistant fire chief. Power outages, too, especially when it is cold, make people seek other heat sources. But these supplementary sources of heat can be safety risks, especially fire hazards, and to stay safe at home, people should understand the risks and avoid them.
New polling place for West Lincoln 6
---
America needs to solve
the gun issue
By Mike Fak
[DEC. 28, 2000] And so the headlines read about a 42-year-old man by the name of Michael McDermott killing seven of his co-workers with a handgun, a shotgun and an AK-47.
---
Hear it here!
Bloomington State Farm basketball tournament
Lady Railers vs. Normal Community West at 4:30 p.m.

Lincoln Railsplitters vs. Calvin Coolidge at Shirk Center at 6 p.m.
There may be some delay for the start of the boys game as equipment is moved.
---

Holiday basketball tournament results
---

---

---
Heating costs
---
Get announcement forms online
Announcement forms are now available online! Print it out, fill it out, and bring it or send it in to Lincoln Daily News. We welcome your pictures, black and white as well as color. This free service is extended to all of our readers. Your announcement will be posted online. Anyone, anywhere can read it! Now Aunt Betty in Florida, Uncle Bob in Alaska and Cousin Frank in Fiji can log in and read your announcement on Lincoln Daily News!
---
---


[click here for top stories for the day from around the world]
---
World/national news coverage
---