Seggelke and Clark-Hansen met only a few months ago at the Illinois Social Workers Conference. With the support of Levek, Clark-Hansen, who has been a motivational speaker for 15 years, was able to bring her workshop to this small school in the Midwest. In part one of this series, Lincoln Daily News examined Cornerstone Production's two-day workshop which prepared Illini Central sixth through eighth graders with the skills they needed to become a traveling performing troupe.
Clark-Hansen, along with her husband Paul, is the founder of Cornerstone Productions, a traveling theatrical company, which conducts workshops and training sessions year 'round. Preparing students for improvisational roles is just one part of their job. In addition, the Hansens present plays and skits to schools and organizations throughout the United States. In these assemblies Clark-Hansen acts out the parts of many different characters that face difficult issues such as drugs, smoking, alcohol, eating disorders and school cliques.

[Paul Hansen, Laura
Clark-Hansen, and Rita Seggelke]


Clark-Hansen, who is working on a master's in human development from St. Mary's University in Minneapolis, Minn., has a simple philosophy when she attends conventions like the one where she met Seggelke. "If you're hungry we have this available," she says plainly. "The lessons are so obvious." The program literally sells itself. Schools must, however, raise funds or write grants for the Hansens to perform. Clark-Hansen was amazed at how quickly Illini Central responded.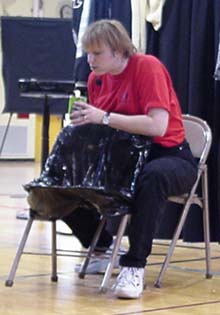 [Laura Clark-Hansen explores
the myths established by alcohol
advertisers. Her "drug" of choice: sauerkraut]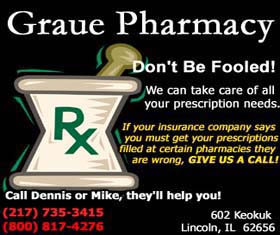 Last week after the training, the Hansens performed for all Illini Central Middle School students. For grades six through eight, Clark-Hansen acted a play her husband wrote entitled, "The Next Level." In this play she focuses on women athletes and sports. The topic of exploration for kindergarteners through third graders included concepts about how your thoughts and feelings impact what you do. For fourth and fifth graders, Clark-Hansen transformed herself into a Barbie doll and focused on the pitfalls of perfection. The message here is to encourage kids to be themselves.
The Hansens' dramatic and comedic scenes had an impact on teachers and students alike. Steffanie Sheldon, an eighth grader who attended the assembly, said, "The performance she [Clark-Hansen] did was wonderful. She never came out of her character once. She taught me more about drugs and alcohol and other stuff."
It is with this type of reaction that Clark-Hansen feels the most rewarded. "I love it when the kids have an 'ah-ha' moment and when they take what they have learned in their head to their heart." The students must think so too. Adam Tucker added, "I can't wait to do it next year."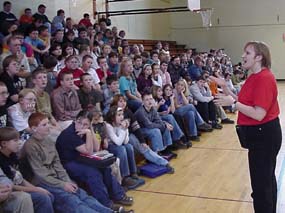 [At the Illini Central Middle School's assembly]
But this wasn't an ordinary class in the fundamentals of theater. The students were proactive as they explored difficult topics that they face every day. Smoking, drugs, alcohol, violence, divorce, depression, peer cruelty and stereotypes, eating disorder and body image, and anger management were at the top of the list.
The mission of Cornerstone Productions is to empower students of all ages "by putting into their hands a powerful tool to use for social change."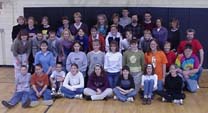 [Members of the Illini Central acting troupe]


Under the Hansens' direction these students learned how to become an influence.

On the first day, Mrs. Hansen explains, "they (the students) teach from their hearts"—learning how to explore a subject through feelings. "On day two," she continued, "they teach from their head to their hearts"—learning all of the factual information. For example, Mrs. Hansen explained, "For the students to know how to express what effects alcohol has on the people around them, they have to understand their feelings." Then they can learn the facts and statistics about alcohol. "Prevention education works when kids learn new information."
And these students are learning volumes. Eighth grader Megan Hudgins exclaims, "I thought that the training was a great experience. It really helped us look at what was going on around us, and it taught us how to help other kids deal with problems like drugs, alcohol and divorce."
Over the two event-filled days, the Hansens equipped the students with the skills they need to become an independent theatrical troupe. These kids don't have to worry about the stresses of acting because improvisational acting does not require complicated scripts or fancy costumes. Andrew Coulter, who is a member of the Illini Central troupe, said, "I thought it (acting) would be kind of embarrassing at first, but I also thought it might be fun, so I joined, and in the end I had a great time."
The topics the Illini Central Middle School students will eventually present to groups around the county include eating disorder, popularity, divorce, cliques and teasing, and drinking and its consequences.
To get their acting skills polished, the students participated in theatrical exercises, which included mime and short skits where they literally became their parts. The students took an in-depth look at bullying, smoking, alcohol and its effect on the organs, and head lice.
Throughout the "improv," students comically "became" head lice attaching themselves with curled fingers to the head of the child with the lice. Or they "became" a withered organ of an alcoholic, showing the impact alcohol has on the body.
"This experience brought students from different backgrounds together—a cross section of kids, high risk, high potential, not just the trophy kids," Mrs. Hansen said passionately.
When asked why she likes her job, Mrs. Hansen said emphatically, "because it's the right thing to do. It changes kids' lives."
To learn more about Cornerstone Productions log on to their Web site.
Editor's Note: You can read part two of this feature with Cornerstone Productions in the March 14 article above.