Voters to decide senior
program funding
[MARCH 17, 2000] Logan County voters will decide Tuesday whether to approve a new tax that will raise an estimated $94,000 to help support organizations that benefit senior citizens. The referendum, which will be on all county ballots, asks if the Logan County Board should impose a tax "not to exceed .025 percent" of the equalized assessed valuation of taxable property in the county.
Real reviews
[MARCH 17, 2000] Are you thinking about renting a movie tonight? I hope these reviews will help. Today I take a look at two completely different releases. "Stigmata," starring Gabriel Byrne, Patricia Arquette and Jonathan Pryce, is a disturbing story of faith, the miraculous and the desire of the powerful to avoid truth and change. While Kristin Scott Thomas and Harrison Ford begin to uncover the mystery of their spouses' betrayal in the lengthy psycho-drama, "Random Hearts."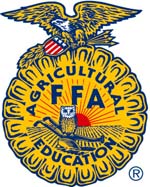 Hartem FFA advances
[MARCH 17, 2000] Hartsburg-
Emden's FFA Agriculture Sales team placed second in the Section 14 FFA Career Development Event while five Hartsburg-Emden FFA members were selected as District III Proficiency Award Winners, based on their interviews pertaining to their Supervised Agricultural Experience Program. Click below to get the details.